Exclusive
Exposed! Presidential Hopeful Marco Rubio's Bombshell Cocaine Scandal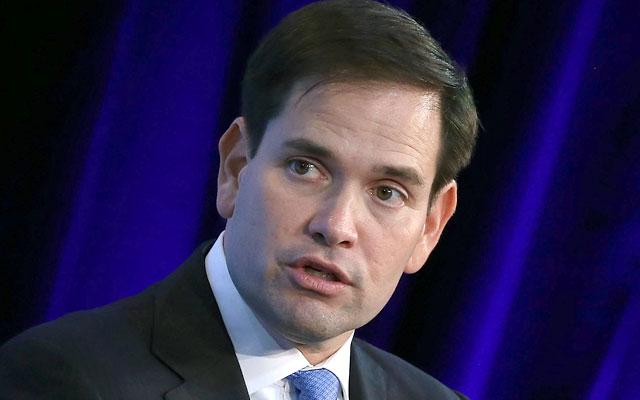 Republican presidential candidate Marco Rubio is hiding a bombshell cocaine scandal: his brother-in-law was a front man for a major coke-smuggling operation and served 12 years in prison!
Sources tell RadarOnline.com Rubio's brother-in-law Orlando Cicilia, who is married to Marco's older sister Barbara, was a key player in the so-called "Cocaine Cowboys" era of smuggling in Miami in the 1970s and 1980s, and he helped sell a whopping $15 million worth of drugs between 1983 and his arrest in 1987.
Article continues below advertisement
"This is political dynamite that could blow up his campaign — it's the last thing Rubio needs to come out!" one political insider told Radar.
Another source revealed there is no evidence that Rubio, 44, or his parents were aware of Cicilia's drug dealing, and his sister was never suspected of any crimes.
Cicilia, 58, was convicted of racketeering in 1989, sentenced to 35 years, and was released from a federal prison in 2000. He and Barbara remained married while he served his time, and they now live in Rubio's childhood home with the siblings' mother, Oriales.
Rubio was just 16 years old at the time of his brother-in-law's arrest on Dec. 16, 1987. In his book An American Son, he referred to Cicilia's being involved in a "criminal enterprise" — but did not mention that he fronted for a huge drug ring run by kingpin Mario Tabraue out of a Miami exotic-animals business called Zoological Imports Unlimited.
"Mario was the kingpin, and Orlando was his second in command," former detective Michael Fisten revealed. "He always had large amounts of cash on him."
Article continues below advertisement
The operation smuggled cocaine from Colombia from 1976 to 1986, and 200 pounds of cocaine worth $75 million flowed through the ring's hands to buyers. Cicilia insulated kingpin Tabraue by personally handing drugs off to buyers, and also directing the shipments of drugs around the country, a source explained.
Though Rubio and his Cuban-immigrant parents left Miami for Las Vegas in 1979, his sister, who was 20, stayed behind in Miami to be with Cicilia.
After the Rubios moved back to Miami in 1985, the presidential hopeful's sister and brother-in-law paid him to wash their dogs, and Rubio also built animal cages for Cicilia. Rubio and his family remained close with Cicilia, who has had no further run-ins with the law.
A source says Cicilia's sons, Daniel and Landy, have received more than $130,000 for services provided from Rubio-affiliated PACs and campaigns over the past decade.