Marco Rubio Terrified Of New Love Child Claims On The Eve Of Debate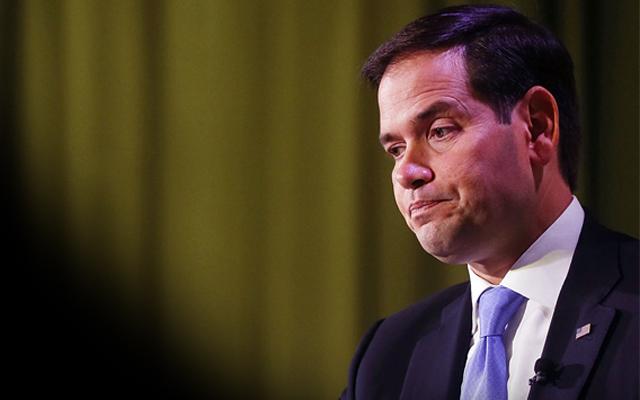 White House hopeful Marco Rubio is terrified that an outrageous new love child scandal will destroy his campaign, RadarOnline.com has exclusively learned.
A new book obtained by RadarOnline.com claims that the U.S. Senator from Florida – a purportedly happily-married father-of-four – once authorized a $40,000 investigation into whether his GOP rivals had evidence that he has a "zipper problem"!
The book, titled The Wilderness and written by former Newsweek political correspondent McKay Coppins, alleges there were claims a woman associated with Florida politics "had supposedly been impregnated by Rubio, and then went on to have an abortion."
Article continues below advertisement
The book further claimed there was possible proof of an affair "when Rubio's credit card statements were leaked," referring to "multiple airline tickets purchased on her behalf."
The author wrote that another rumor "held that Rubio was hiding a secret second family somewhere, and sending regular cash installments to support them (and keep them quiet.)"
Coppins admits that the details of this story varied substantially from one source to another: Sometimes the mother was alleged to be a former Dolphins cheerleader; other times she wasn't.
"In one version, the entire relationship had taken place before Rubio ever met his wife;" he wrote. "In another, the love child was the result of an extramarital affair that he was now desperately trying to keep quiet."
Rubio has yet to publicly comment on the accusations.
Story developing.