Exclusive
Michael Lohan Calls Kate Major Abusive & More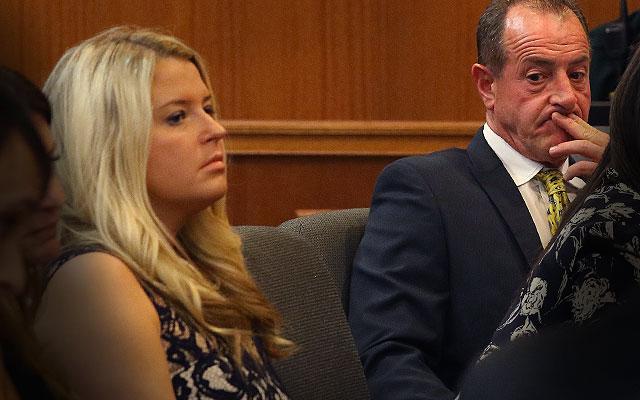 Michael Lohan tells RadarOnline.com exclusively his wife Kate Major is abusive amid the duo losing custody of their two children, who he calls "victims" of their mother's out-of-control behavior.
"I am NOT the abusive one, Kate is. My children and I are the victims," Lohan said, vowing, "This is only the beginning — the truth will be heard."
"If I can't be heard in court, the world will know what the court is doing to me and my kids."
Article continues below advertisement
Major claimed that Lohan hit her and one of their children in the Oct. 11 incident that triggered authorities to witness the video, and later strip them of custody.
Lohan said that he had "to laugh" after hearing a tape of a whimpering Major speaking to a 911 operator on Nov. 2, claiming he was banging on the door. Lohan said that Major "missed her calling," and "should have been an actress."
Explaining the Nov. 2 incident to RadarOnline.com exclusively, Lohan said he "went to the apartment because she was drinking the night before, and she was supposed to meet him, but she turned her phone off."
Article continues below advertisement
He said he didn't bang on the door, but knocked "to see if she was okay," as he doesn't "have a key for her apartment."
Lohan asked, "Who's the one with seven assault charges in two years? Who's the one that's been in and out of rehabs and detoxes, and even jail over the last two years? It sure hasn't been me. But my kids and I are the ones being penalized."
Lohan said that he's raised his two sons for the past two-and-a-half years with no issues, and has kept a keen eye on their educational, medical and dental needs.
He noted that "the system is now abusing" his kids, in terms of the events that occurred after taking them out of his care. He noted his son Landon had "a burn on the tip of his finger and scratches on his arm" upon emerging from the shelter authorities placed him in after custody was stripped.
"It broke my heart seeing Landon as he was today," Lindsay Lohan's 55-year-old father told Radar. "It killed me. It crushed me and took a piece of my heart."
Major told Radar exclusively about Lohan's claims: "At this time, I cannot comment and that the truth will come out."