Exclusive
Michael Lohan Speaks Out On Custody Nightmare As Kids Taken By CPS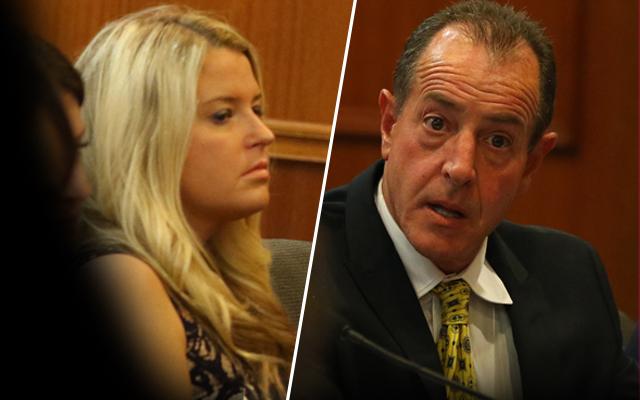 Michael Lohan explained to RadarOnline.com exclusively his side of the story, after social work officials in Florida stripped him and wife Kate Major of custody of their two children.
According to online reports, authorities with the Florida Dept. of Children and Families (DCF) last week removed the children from the household after seeing a video of Lohan and Major fighting in front of the young boys, 2-year-old Landon and 10-month-old Logan. The tots were put into foster care until Lohan's mother Marilyn flew to Florida, where officials transferred custody to her.
Article continues below advertisement
Lohan told RadarOnline.com about a laundry list of mistakes Kate made — most involving anger, alcohol, or a combination thereof — leading to some confusion on his part, as to why he's being punished for her actions.
"What's wrong with this picture?" he said, before listing the destructive sequence of events that led to him experiencing every parent's worst nightmare. "Kate went to jail for DWI and Michael raised Landon on his own for 8 months. Kate gets out of jail, gives birth to Logan, relapsed on alcohol, assaults Michael, Kate goes to rehab, Michael raises Landon and Logan on his own and has full custody.
"The court makes Kate live separately and have supervised visitation. Kate gets out of rehab, relapses on alcohol and goes into detox."
Lohan said that the "verbal altercation" that triggered officials to pull custody of the children came after a drunken Kate showed up at his home Oct. 11, and waited as he and the kids returned from a water park.
He said that the court decided to strip him and Major of custody, in thinking that he failed the two boys by not protecting them in allowing Major to enter the home, then engaging her in a fight after he told her to leave. (At that time, Lindsay Lohan's 55-year-old father said that all of the boys' medical, dental, educational and daycare needs were being met, as the children were "well taken care of.")
Literally keeping score, Michael said that over the past two years, Kate's been involved in three assaults while he's been involved in none; that Kate's had to go to rehab or detox three times while he hasn't been there once; and that he's made $240,000 while Major hasn't made a dime.
Noting that "proof of all this was provided to the court," Lohan again asked, "What's wrong with this picture?"
Readers, given the facts, do you think social workers made the right call by taking custody away from both parents?