Exclusive
REVEALED: Did Charlie Give Brooke Mueller & Twin Sons HIV?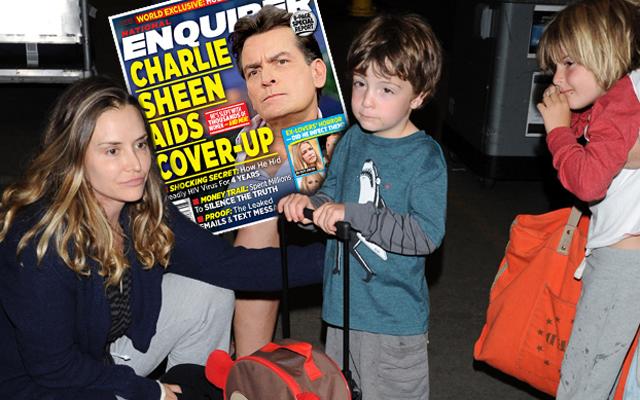 Hollywood is in crisis after The National ENQUIRER revealed Monday that Charlie Sheen is HIV positive. But as the people closest to him scramble to confirm their own status, RadarOnline.com can exclusively reveal that his ex-wife Brooke Mueller, and their twin sons, Bob and Max, have all tested NEGATIVE for the disease.
The littlest victims in Sheen's HIV diagnosis could have been his six-year-old twins with Mueller, but an insider told Radar, "All three of them have been tested for HIV, and all have been negative."
Article continues below advertisement
"Brooke and the boys didn't get HIV," the source continued. "It doesn't mean that Brooke wasn't scared out of her mind, though. This has been her living hell, knowing Bob and Max's dad has the disease."
"Brooke only wishes Charlie the best, and wants him to live a long, happy and healthy life," the source said.
As Radar reported, Mueller, 38, was initially shocked when she heard the news.
Mueller, who was married to Sheen from 2008 to 2011, described her reaction in a rambling text message to his now-dead personal assistant.
"I couldn't handle the HIV news," she wrote. "…Charlie potentially giving me HIV. I started doing heavy drugs with Charlie, staying up for days and it made my brain misfire. I snapped."
"I feel awful," she wrote in another text. "Totally disgusted by myself. I have to talk to him about our kids. I desperately need to talk to him. Does he have five minutes for me?"
Now, the Palm Beach socialite is "focused on being a sober mom for her kids," the source said. "Brooke is committed to her sobriety and being there for the boys. They are her entire world."
UPDATE:
Mueller's rep Steve Honig told Radar, "Brooke has been inundated with calls from friends and family. To put their minds at ease, Brooke can confirm that she and the boys are not HIV positive."