Exclusive
READ Explosive Texts From Brooke Mueller About Charlie Sheen's HIV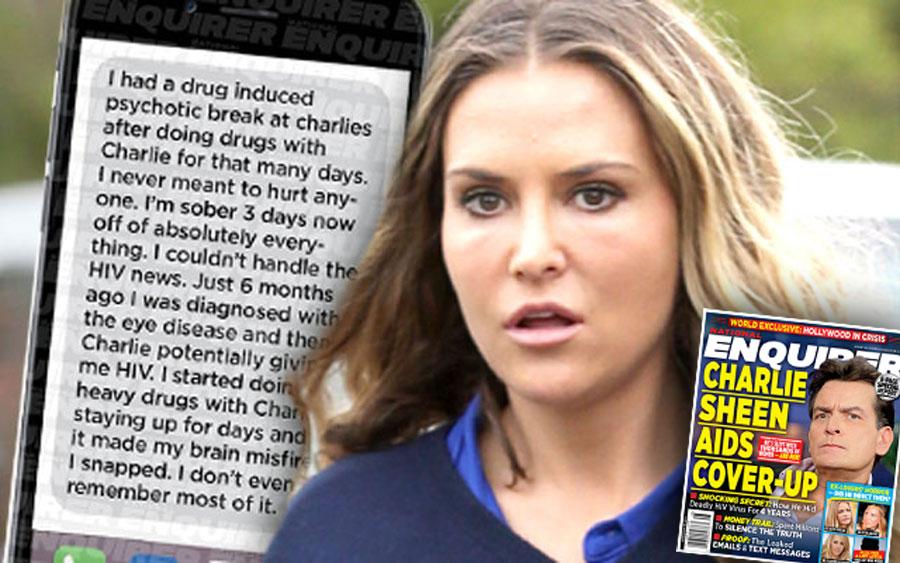 By Dylan Howard & Melissa Cronin
Charlie Sheen's ex-wife Brooke Mueller feared for her life after she learned that the actor had "potentially" exposed her to HIV, RadarOnline.com has learned.
The National ENQUIRER broke the details of the cover-up scandal on Monday, and now RadarOnline.com can reveal the explosive text that shed light on how Mueller reacted to the news years ago.
Mueller, who was married to Sheen from 2008 to 2011, described her shock in the rambling text message to his now-dead personal assistant.
Article continues below advertisement
"I couldn't handle the HIV news," she wrote. "...Charlie potentially giving me HIV. I started doing heavy drugs with Charlie, staying up for days and it made my brain misfire. I snapped."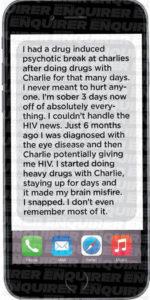 "I feel awful," she wrote in another text. "Totally disgusted by myself. I have to talk to him about our kids. I desperately need to talk to him. Does he have five minutes for me?"
As RadarOnline.com reported, Sheen has hidden his diagnosis for years, out of fear that Hollywood would blacklist him.
The ENQUIRER learned during its investigation that at least four women have claimed Sheen exposed them to the virus, and he reportedly paid off one female sex partner in a hush-hush financial settlement. There are also several active lawsuits against Sheen over the status of his deadly condition.
"Charlie had sex with multiple partners since learning his HIV status without informing them of his potentially deadly HIV infection," one source told The ENQUIRER.
He is expected to address the news in a highly-touted interview with Matt Lauer on Tuesday morning.
More than 1.2 million people in the U.S. are living with HIV or AIDS. If you are worried about HIV, get in touch with the Centers for Disease Control and Prevention.
Story developing.
Additional Reporting – Jen Heger & Andrea Simpson