Charlie Sheen Is HIV Positive — Inside His Shocking Diagnosis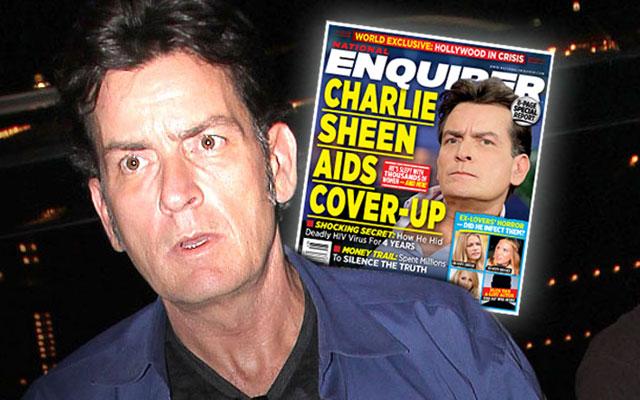 By Dylan Howard & Melissa Cronin
In a blockbuster world exclusive, the National ENQUIRER reports that Charlie Sheen is hiding a shocking secret: He has been suffering from the deadly HIV virus for years.
After an exhaustive 18-month investigation, the ENQUIRER reveals the sex-crazed 50-year-old actor, who has a long history of sleeping with porn stars, strippers and groupies of both sexes, is now desperate to cover up his medical crisis, and it's costing him millions.
Article continues below advertisement
"Charlie thought he was indestructible and took no precautions — even though he was indulging in high-risk sex practices," a close friend of the star said.
Sheen, who has boasted of sleeping with more than 5,000 women, confessed his illness to almost a dozen sources, who then divulged the information to the ENQUIRER and underwent intense scrutinizing by the publication, including lie detector tests administered by an independent polygrapher.
Article continues below advertisement
The ENQUIRER learned during its investigation that at least four women have claimed Sheen, 50, exposed them to the virus, and he reportedly paid of one female sex partner in a hush-hush financial settlement. There are also several active lawsuits against Sheen over the status of his deadly condition.
"Charlie had sex with multiple partner since learning his HIV status without informing them of his potentially deadly HIV infection," one source told The ENQUIRER.
Adult film star Scottine Ross, who an insider noted didn't know of Sheen's HIV status for four months while they had unprotected sex, railed against her ex-fiancé in a video provided to The ENQUIRER: "You exposed me to HIV for a year and a half!" she blasted.
Though Sheen privately issued a strenuous denial when confronted by The ENQUIRER in November 2014 about his double life, his HIV status is an "open secret" in Hollywood.
Article continues below advertisement
Now Sheen, who doesn't know how he contracted the virus, "has been tortured by the thought that his acting genius will be forgotten," explained a source. "Charlie's worst fear is that he will be remembered not as a great actor, but as someone who contracted the disease."
More than 1.2 million people in the U.S. are living with HIV or AIDS. If you are worried about HIV, get in touch with the Centers for Disease Control and Prevention.
Additional Reporting - Jen Heger & Andrea Simpson