Bree Olson Claims Charlie Sheen Used Questionable Lambskin Condoms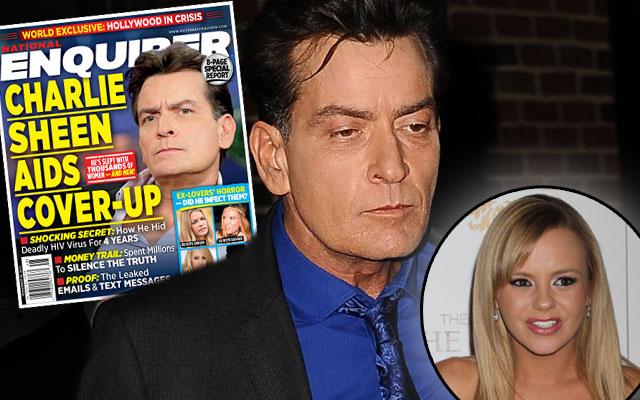 Bree Olson claimed that Charlie Sheen used lambskin condoms — which officials say is less effective in preventing HIV and other STDs — after receiving his HIV diagnosis in 2011.
As RadarOnline.com previously reported, Sheen told Matt Lauer Tuesday, "I'm here in fact to admit I'm HIV-positive", and "always led with condoms and honesty when it came to his condition," telling everyone of his partners about his heath with "no exception."
Article continues below advertisement
The 50-year-old added that it was "impossible" that he passed it onto others, but according to Olson in her appearance on The Howard Stern Show Tuesday, the scandal-ridden star isn't being completely honest on either account, as she claims he told her that he was "clean;" and that "he used lambskin condoms" in his sexual encounters.
According to the Food & Drug Administration, for safe sex, "condoms should be made of latex (rubber), or polyurethane condoms for people sensitive or allergic to latex. Tests have shown that latex and polyurethane condoms (including the female condom) can prevent the passage of the HIV, hepatitis and herpes viruses. But natural (lambskin) condoms may not do this."
Olson said she was sharing that information in hopes of informing "all the women that have slept with Charlie, because I'm sure there's thousands of you out there."
The former porn actress said she thinks "a lot of girls … don't realize" the risks they took in using the lambskin condoms, under the faulty idea that they were having safe sex with the Anger Management star.
"A lot of girls when they would see that packaging wouldn't question it — I questioned it immediately," Olson, whose real name is Rachel Oberlin, told Stern.
Article continues below advertisement
The 29-year-old Indiana native, who appeared in hundreds of XXX titles, said she was keen to the health hazards with her past experience in the adult entertainment industry.
"It was my job to not get HIV — that was literally my job — to be a professional … safe … getting tested was my job."
Olson, in the interview, compared her yearlong stint as one of Sheen's "Goddesses" to playing "Russian roulette every day for a year."