Liar Brooks Throws Vicki Under Bus During Bombshell Cancer Interview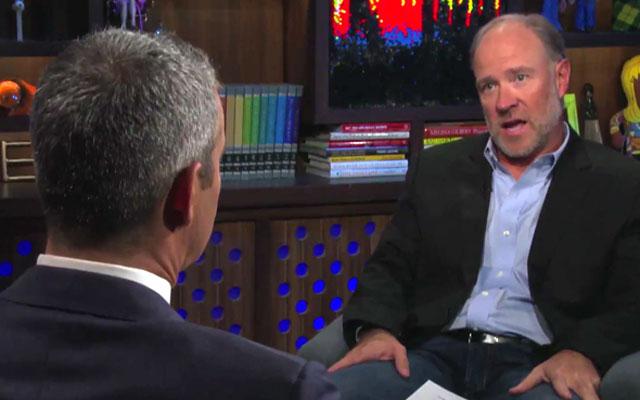 Brooks Ayers can't seem to keep his mouth shut—even if it means fabricating the truth in the process.
During his bombshell interview with Bravo's Andy Cohen on Thursday, the reality star continued to insist that he has cancer, despite faking his medical records.
At the beginning of the sit-down, Cohen let viewers in on a disclaimer.
"A few weeks ago, I sat down with Brooks Ayers for a one-on-one conversation," he said, "Since then, the City of Hope Medical Center revealed that Brooks was never treated for cancer at their facility, contrary to his claims."
Article continues below advertisement
"Then, just yesterday, Brooks admitted that he had indeed fabricated medical records in 'the hopes of putting doubts about my cancer to rest,'" Cohen continued. "However, he still stands by the fact that he has cancer. So, as you watch this interview, it is fair to ask is he lying about anything else?"
When asked if he still had cancer, Vicki Gunvalson's ex-boyfriend stood strong in his claims.
"I do," he answered flatly. "Thank you for asking. I have been in treatment – chemotherapy plus a lot of holistic approaches and alternative medicines to build up my immune system – now for going on 11 months."
"My numbers are normalizing," Ayers continued. "The lesions in my lymphatic system have now gone. They're gone. CT and PET scans reveal that they're no longer there."
Later in the conversation, Ayers took a few jabs at the Real Housewives of Orange County cast members, specifically calling out Shannon Beador, Meghan Edmonds—whom he called "obsessive"—and Tamra Judge for questioning his health.
"Who would ever question somebody with cancer?" he asked, exasperated. "I spent a grand total of 10 minutes with those ladies specifically asking me questions about my cancer over the course of the year."
Article continues below advertisement
Watch the Video on RadarOnline:
But it wasn't just the reality star's sworn RHOC enemies that were torn down; Ayers also took the liberty of throwing former flame Vicki Gunvalson under the bus.
"The main source of information came from Vicki, who sometimes leaves out critical pieces of a story that creates those questions," he told Cohen. "Quite frankly, Vicki misspeaks quite a bit, and sometimes tells people what they want to hear or to gain sympathy for us. She misspoke quite a bit."
When questioned why he never followed through with pal Shannon's doctor recommendation, Ayers answered: "I spent countless…I spend countless hours researching, talking to people etc., and I visited with three different physicians that had different opinions. I didn't need to go to a fourth one just because Shannon wanted to do that. When I was re-diagnosed in October, I shared with Vicki that I wanted to deal with this as privately as possible."
Article continues below advertisement
Cohen quickly brought up Vicki's choice to then share the information exclusively with RadarOnline.com.
"After Vicki shared the information with the ladies—she sent out a blast text—and all of a sudden I get contacted because somebody wants to know about my cancer coming back," Ayers shrugged. "So, I had to address it, which I did."
As for his previous girlfriends who, as RadarOnline.com previously reported, claimed he faked cancer in the past, Ayers simply believes they were "angry" over the breakup.
Will this Brooks and Vicki breakup stick? "It's for good. I'm actually relocating to Florida. I'm not running from anything. I'm running to peace and tranquility."
In his parting words with all of the 'Wives, Ayers said he'd never get back together with Vicki, he "sincerely thanks" Heather for her support, he wants Shannon to know it's "not about her doctor," and would like Meghan to "f*** off."
"I don't answer to anyone but God, closest family, and closest friends. These ladies are not friends to me," Ayers concluded.
Do you think he's STILL lying about cancer? Let us know in the comments below!