Artie Lange: Fans 'Shouldn't Overanalyze' Howard Stern's Radio Show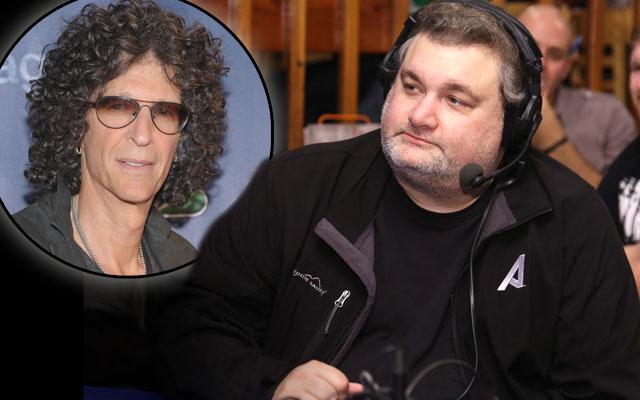 Howard Stern's former sidekick Artie Lange on Sunday took to Twitter to praise his one-time boss, and discourage fans from overanalyzing the iconic radio show, which has undergone obvious changes in recent years.
Lange, who was with the top-rated radio show from 2001 until 2009, sent out a series of tweets on the topic, which was apparently triggered by Billy Joel's performance at the World Series at New York City's Citi Field, and how it reminded him of Joel taking the stage at Stern's 2008 wedding to wife Beth Ostrosky.
Article continues below advertisement
"So cool watching Billy Joel watch all of Citi Field sing Piano Man During World Series! Like the end of Howard & Beth's Wedding in 2008.
"Might've been most surreal & awesome thing I got to be at cuz I was on The Howard Stern Show," the Crash and Burn author said, adding that "the amazing Wedding at Le Cirque ended in style," as the invitees "all danced to Billy Joel singing and playing the Piano live until the wee morning hours. I looked up & Joel was 3 feet from me as I danced!"
The Beer League star said that seeing the "Big Shot" singer still going strong at 66 made him realize "how lucky the world is that Billy Joel still does concerts! And also that Howard Stern still does a radio show!
"If Howard is still doing radio the next several years, we shouldn't over analyze his show! We should appreciate the fact it's still on at all," Lange said. (There is no word whether Stern will re-sign with SiriusXM, move to a different format, or retire, as his second 5-year contract with the satellite giant draws to an end next month.)
Article continues below advertisement
The It's The Whiskey Talkin' star's remarks come just a week after he opened up on his podcast about how he agreed with many longtime fans that it was "very odd" to witness the King Of All Media's newfound friendships with A-listers like Ellen DeGeneres and Jennifer Aniston after years of brutally bashing both on his nationally-heard radio program.
Lange said of Stern's 180: "I don't know what the agenda is, I'm going to say right now he doesn't like it — I guarantee it, I know Howard well enough to know he doesn't f**king like it ... I'm telling you right now, the Howard that likes Ellen's dancing, and is somehow forced to go on the beach, and make small talk with Orlando f**king Bloom, is not the Howard I knew, it is not the real guy!"
Article continues below advertisement
"I know that some people might not like my show anymore," the Private Parts star said, "and if you don't like it, I welcome you to leave.
"Whatever I'm doing now, is about the best I can do — that's it — I'm not interested in repeating material I've done in the past," the SiriusXM superstar said. "I no longer relate to the common man, for 17 years now. I only relate to me anyway, I never related to the common man, I don't know what the f**king common man is."
On his podcast following Stern's statement six weeks back, Lange compared the radio star to another legendary musician in Bob Dylan, in the way he handled the listener backlash. An admitted music buff, Lange recalled how Dylan vented his frustrations with a disappointed fan base — upset that he had switched from acoustic guitar to electric — in his 1964 song, "Positively 4th Street."
Lange wrapped up his stream of statements in saying that when "guys who are legendary Kings at what they do like Billy Joel & Howard Stern aren't around anymore, the World won't be as cool!