Meghan King Edmonds Defends Tamra Judge's Heartbreaking Custody Battle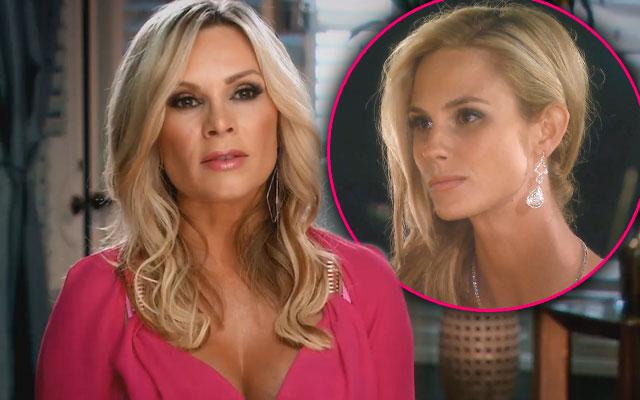 Standing up for her pal! After the explosive Real Housewives of Orange County Reunion Part 2 aired on Monday, Meghan King Edmonds reacts to rival Vicki Gunvalson's insensitive comments about costar Tamra Judge.
In a new Bravo Blog, the RHOC newcomer slams Gunvalson for joking about Judge's heartbreaking custody battle with ex-husband Simon Barney, which has kept the fitness trainer in constant emotional distress.
Article continues below advertisement
During part 1 of the reunion, Judge broke even down over her estranged relationship with daughter Sidney, who has been in Barney's care for the last two years.
While Gunvalson feigned support during the reunion show, it was soon revealed that during season 10 of the reality show, the controversial star had also made a few jokes at Judge's expense—behind her back!
"My heart also aches for Tamra," Edmonds wrote in her blog. "I can't imagine the pain she must have felt when she found out that her supposed good friend, Vicki, made such horrid comments regarding her custody and fitness as mother."
"And this comes on the heels of Vicki saying, 'That's all Simon' when Tamra was discussing how Sidney has cut off contact with her," she continued. "Vicki said that her custody comment was said 'in jest,' but I don't think that the word 'jest' can apply to that comment. I believe "caustic cynicism" would be a more appropriate description to explain the depth of its maliciousness intent – don't you agree?"
MORE ON:
Meghan King Edmonds
Article continues below advertisement
The former model has her own complicated past with Gunvalson, especially after the OC veteran badmouthed her allegedly rocky marriage to baseball star Jim Edmonds.
During part 2 of the reunion show, Jim even made an appearance to set the record straight!
"Andy Cohen asked if we wanted an apology out of her," Edmonds later explained in her blog. "We both said no, because her comments didn't affect or hurt either of us. The only one who was hurt by her was Hayley Edmond's stepdaughter."
"Surprisingly, Vicki agreed that she owes Hayley an apology (with Andy, the other Housewives, my husband, and the whole production team as my witnesses)," Edmonds added. "But she hasn't followed through with that apology yet..."
Do you think Vicki will ever offer an olive branch to Meghan or will this feud continue to blow up? Let us know in the comments below!