5 New Development In The Lamar Odom Overdose Drama –– Brothel Owner Tells Kardashians 'To Go To Hell' As Tributes Flow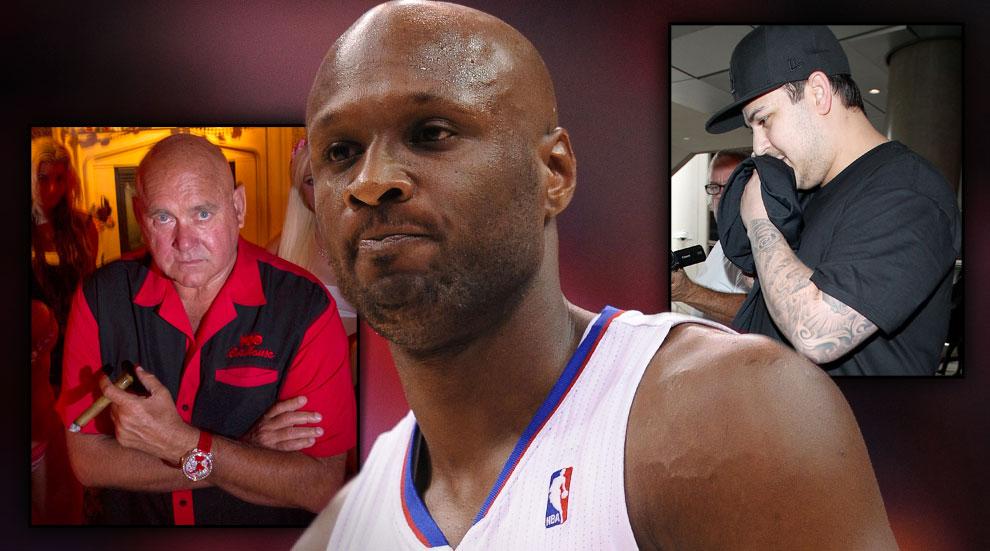 RadarOnline.com has all the latest details in Lamar Odom's fight for his life in a Las Vegas hospital, including key visitors, and one man's angry words for the Kardashians.
Latest Details
Odom's ex-wife Liza Morales and their two kids Destiny and Lamar Jr. arrived in Las Vegas from their native New York late Wednesday, amid the athlete's problematic condition. Insiders told RadarOnline.com Wednesday that ongoing filming of his phone calls with Khloe for Keeping Up With The Kardashians pushed Odom to the brink, and that he described himself as a "broken man" to the escorts he kept company with during his stay at the brothel. "He was all freaked out about Khloe, fixated on her," a source told Daily Mail. He was showing the girls photos of them together and wanted to pour his heart out, he wasn't there just for sex, he needed a shoulder to cry on, companionship. He seemed lost."
Article continues below advertisement
Brothel Owner Rips Kardashians
Love Ranch owner Dennis Hof told Nancy Grace Wednesday that he lashed back at the Kardashians after they tried to silence him in the wake of Odom's death crisis. The media-savvy businessman, of HBO's Cathouse fame, told the HLN host how the family reached out to him through one of their reps -- and the clear answer they got back after trying to manipulate him. "I got a call from their publicist today saying, 'Are you going to do any media?' And I said, 'Yes, I'm going to go on the Nancy Grace show,'" Hof said. The publicist told Hof, 'Please don't do that, we'd rather have Khloe say what needs to be said.'" Hof wasn't buying it: "I told her to go to hell." In the appearance, Hof said that the former L.A. Clipper and Laker had been "healthy and sleeping" during his three-day stay at the establishment -- "Everything was fine until Tuesday morning," he said -- and that he was unaware of any illegal drugs Odom might have consumed, noting that he "could have sneaked" them in.
Watch the video on RadarOnline.com
'Praying Nonstop For My Brother'
Rob Kardashian kept thing short and sweet in an Instagram post Wednesday, as the reality TV family's most reclusive member took to him Instagram to pay tribute to Lamar, who he grew very close to during sister's Khloe's marriage to the NBA forward. "Praying nonstop for my brother," the 28-year-old wrote, racking up more than 230,000 likes as of early Thursday. As RadarOnline.com previously reported, the two had their ups and downs, complicated by the fact that Rob lives with Khloe. An insider told Radar in March, "Lamar always had Rob's back, and looked out for his best interests while he was married to Khloe."
Article continues below advertisement
https://instagram.com/p/81wl2PJWfL/?taken-by=robkardashian
Kris Jenner Weighs In ... With Hashtags & Emojis
Like her son, Kris Jenner also was of few words in the wake of the medical crisis, posting an image of Odom during his professional heyday with the Lakers, adding, "Please pray for Lamar ? #ourfighter," adding an emoji of a pair of hands closed in prayer. "The Momager" has been holding vigil in Las Vegas with her daughters during the tough time, and clearly not her usual cool, composed self.
https://instagram.com/p/81ksy9G-Mn/?taken-by=krisjenner
Melo Leads NBA Community In Paying Homage To Fallen Star
Odom's good friend, NBA superstar Carmelo Anthony, told the AP Wednesday of Odom: "All he cared about was playing basketball," noting that "every time I talked to him, that's all he talked about." The New York Knicks forward stressed that Odom "wanted to give back to the league" off-the-court, as well. Anthony's coach Derek Fisher, the clutch shooter who played alongside Odom on the Lakers, hailed the troubled star as "one of the greatest people I've ever known," adding that he recognized Odom as am "amazing teammate" and for the "person that he really is," not his personal demons. "I don't view him through the prism of choices that he's made -- I view him through the heart and soul."