Showdown! Lamar Odom's Ex Flies To Las Vegas For Hospital Faceoff With The Kardashians -- Why She's Furious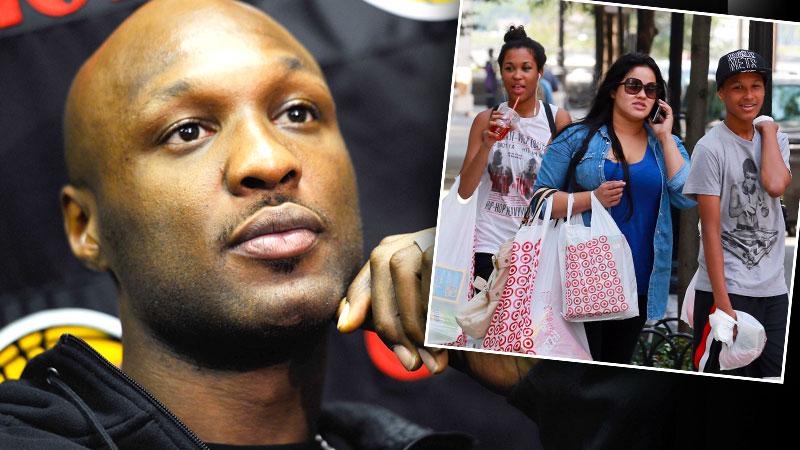 It's the battle of the exes! As Lamar Odom lies unconscious in a Las Vegas hospital after a suspected drug overdose, RadarOnline.com has learned his ex and baby mama, Liza Morales, is on her way to the scene and ready for a big showdown with Khloe Kardashian.
According to an insider, "Liza immediately began making arrangements to fly to Las Vegas from New York City with their two children, Destiny and Lamar Jr., to be by Lamar's side."
Article continues below advertisement
"They are expected to arrive at Sunrise Hospital on Wednesday afternoon," the source said. "His kids are old enough to understand what is going on, and Liza just wants to get to the hospital."
"She is fuming that Khloe, Kim, and Kris are all at Lamar's bedside," the source said. "Where have they been for the past year? All Kardashians have ever done is bring drama into Lamar's life."
"And of course, Khloe has been using Lamar as her storyline for the past season of Keeping Up With The Kardashians," the insider continued. "There was absolutely no reason to do it as Lamar hadn't appeared on it for years, only phone calls with Khloe."
She's so angry, according to the insider, "Liza will toss Khloe out of the room, if she's able! Lamar's children and Liza are his family, not the Kardashians. Khloe had given up on the marriage and moved on. She doesn't now get to play the concerned wife at Lamar's side!"
Morales gave an insight into her heartbreak when she posted a heartfelt quote from the late Tupac Shakur on Twitter Wednesday morning: "Why the rose that grew from the concrete had damaged petals. On the contrary, we would all celebrate its tenacity. We should all love it to reach the sun. Well; we are the roses, this is the concrete, and these are my damaged petals."
Article continues below advertisement
The source added, "It makes Liza and the kids furious that the media is referring to Lamar as Khloe's ex. He is so much more than that: accomplished professional basketball player, father, and son. He was somebody before he met Khloe and the public needs to remember that."
As RadarOnline.com reported, the thirty-five-year-old had been drinking and popping herbal Viagra pills at the brothel before the medical crisis.
According to insiders, Odom, 35, arrived at the Love Ranch in Pahrump, Nevada, on Saturday alone. He was put up in a VIP suite, where he partied, "enjoying the company of women."
"The girls didn't see him do anything but drink and pop herbal Viagra," said a source.
Sunday night, the insider said, "He told the women he didn't want to be with anyone and he spent the night alone."
"No one saw him all day," the source continued. "He was in his room. The girls went in to check on him Tuesday and found him passed out. Who knows how long he's been like that!"
Odom was taken via ambulance from Pahrump, to Las Vegas to begin treatment for his suspected overdose, and remains in critical condition.