Jimmy 'Trippy' Fallon Jokes About Latest Booze-Fueled Injury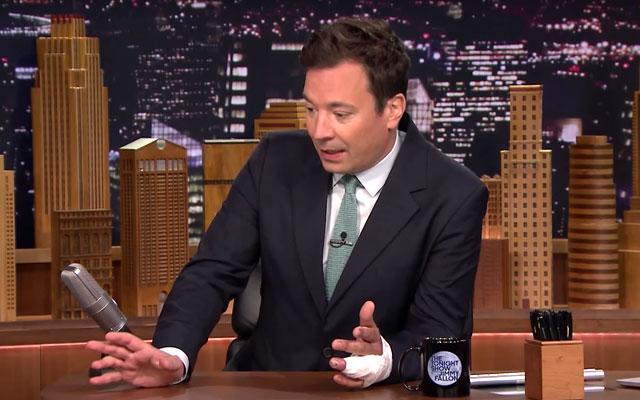 The Tonight Show host Jimmy Fallon kept things light Tuesday while explaining to his audience his second alcohol-fueled injury in the span of four months, this time to his right hand.
"Welcome to 'The Tonight Show,' I'm your host — Trippy Fallon," he said, jabbing at the applause of the studio audience by saying, "Keep clapping, you show offs."
Fallon, whose offset antics have caused NBC execs to have "several very frank and honest conversations" about the late night star's future in the wake of the second incident, put a comedic spin on his latest accident — involving a bottle of Jägermeister — while in Cambridge, Mass.
Article continues below advertisement
Watch the video on RadarOnline.com
"Of course, you may have heard that I had another mishap, this time I injured my other hand … right after getting an award from Harvard," the funnyman explained to the crowd. "Even when I get into Harvard, I still embarrass my parents."
The ex-Saturday Night Live star, who took over duties on NBC's prized franchise from Jay Leno last year, joked, "Fans sent me 'Get Well Soon' cards, while my hand doctor sent me a picture of his new Ferrari."
As RadarOnline.com previously reported, Fallon spent 10 days in the ICU after initially hurting his left hand in a June incident in which he tripped on a rug, and got his wedding ring caught on it.