Exclusive
Super-Producer Jerry Bruckheimer's Handbook From Hell! Rules For Assistants REVEALED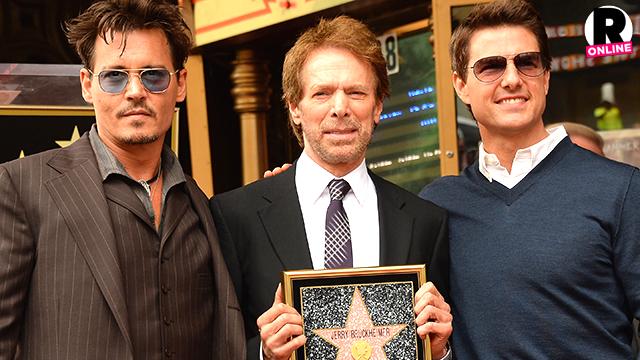 Producer Jerry Bruckheimer is responsible for everything from TV's Amazing Race and CSI: Crime Scene Investigation to the movies Pirates of the Caribbean and Top Gun.
But RadarOnline.com has seen a copy of an excruciatingly detailed handbook that numbers nearly 100 pages and is given to all of his assistants to memorize — and it turns out they are the real secret to his success!
"She did everything for him," an insider tells RadarOnline.com of one past assistant. "The book shows just how maniacal Jerry really is."
Article continues below advertisement
When Bruckheimer wants to have fun it's his assistant's responsibility to organize it down to the last detail. For example, the producer plays hockey with his high-powered Hollywood pals every single Monday, like clockwork, states the handbook.
His assistant must do everything to make the weekly get together happen, from reserving the ice and hanging players' jerseys in the locker room to keeping score during the game and washing the dirty uniforms once it's all over.
One of Bruckheimer's biggest rules is that he returns each and every call that's made to him. Assistants are warned of the complicated system that is their duty to master — from listening in on all calls and taking detailed notes to never ever letting the big boss be connected to another person's assistant. And making Bruckheimer hold for more than mere seconds while the assistant connects him to someone is a huge no-no.
Article continues below advertisement
Of course, Bruckheimer is a very busy man, and assistants are required to juggle his three calendars, according to the secret handbook. Assistants must enter all his meetings — strictly pre-approved by him first — into an Outlook calendar, a Tiffany calendar he keeps on his desk and a small personal calendar he always keeps with him. If Bruckheimer is away, then the assistant must track down whichever other assistant is by his side in order to update his personal calendar so nothing falls through the cracks.
One of the biggest rules is that assistants must never divulge Bruckheimer's whereabouts, and the handbook goes into excruciating detail, complete with examples, of how to avoid giving out any information. It also makes very clear that nobody but nobody needs to know that Bruckheimer works from home every day until 11 a.m. sharp before he heads into the office.
Right before the big boss lands at work, it's made clear that the assistant must anticipate his arrival with a bottle of cold Volvic water on his pristine desk. It warns that this is a tricky job since if the assistant gets it there too early it will grow warm, and Bruckheimer will not be happy.
MORE ON:
Jerry Bruckheimer
Article continues below advertisement
Food is a very big concern for 70-year-old Bruckheimer. Assistants know that at exactly 4 p.m. daily he gets his protein shake, which they must prepare and deliver to him wherever he may be.
There's also a detailed section in the handbook on what Bruckheimer wants to eat, including his usual morning egg-white omelet with scallions. Lunch requests are to be taken daily, but there's a detailed list of where they come from and what is acceptable to be ordered. And when the food arrives? Bruckheimer must always be served his meals on a black placemat with two black cloth napkins.
As a big time producer, Bruckheimer is allowed to see movies at theaters for free, usually on Friday or Saturday nights, and it's the assistants job to take care of the arrangements, right down to getting refreshment orders and delivering them to his seat.
Of course, going out on the town requires Bruckheimer to look impeccable. Obviously, it's the assistant's job to make sure that happens. The handbook from hell details how the producer must have his hair cut every three weeks from a certain stylist. In a pinch, he will allow another designated person to cut his locks, but they must come to his home. The handbook even goes as far as revealing his demanded hair color and brand: Redken.
Article continues below advertisement
When on location, an assistant must stock everything on Bruckheimer's extensive list of needs, from Savex lip balm to nail clippers.
The nearly 100-page manual is so extensive and detailed that it even lists the liquors Bruckheimer demands be in his liquor cabinet at all times, his rules for accepting cigar gifts and how to store them in his humidor and his extensive list of vitamins which need to be stocked continuously.
What do you think of Jerry Bruckheimer's handbook from hell — necessary for a Hollywood bigwig or an abuse of his power? Sound off in the comments below.