Hollywood Assistants Tell All! Book Spills On The Most 'Ridiculous' & 'Terrible' Demands From Nightmare Bosses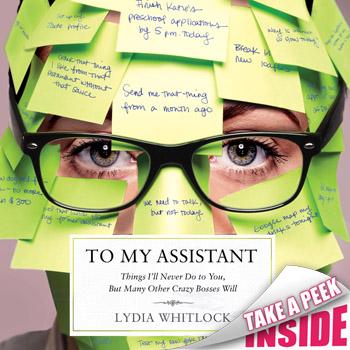 Last week, the world met real-life Ari Gold, CAA agent Nancy Etz, an over-the-top entitled Hollywood exec who called her assistant a "b***h" in a scathing, condescending email that quickly went viral. For assistant-turned- author Lydia Whitlock, however, the email was all too familiar: After five years toiling away as an assistant, Whitlock quit the biz to expose the seamy side of the Hollywood system in a no-holds-barred book, To My Assistant: Things I'll Never Do to You, But Many Other Crazy Bosses Will. Now, she shares some of her craziest tales with RadarOnline.com -- stories that make Nancy Etz seem like the boss of the year.
Article continues below advertisement
"I was not at all surprised that the Etz email exists," Whitlock tells RadarOnline.com exclusively. "I was surprised that someone had the guts to leak it because that's an unsaid rule in the industry."
Indeed, Whitlock used the cover of anonymity when she started blogging about her experiences as a Hollywood assistant in 2011, three years after graduating from Yale and heading to Los Angeles.
"I started the blog because I noticed that a lot of times when assistants have something terrible done to them or are asked to do something ridiculous for their bosses, they'll say 'When I have an assistant, I won't be like that,'" she explains. "I thought it was a very hopeful and good-natured way to look at how a lot of bosses treat their assistants."
If she didn't laugh, it seems, she'd have to cry. Whitlock remembers one particular instance when she faced an epic meltdown over butter.
"I had a boss who screamed at me once because the butter that came with his lunch was too warm," Whitlock remembers. "It was like, full-on tantrum level. From then on, every day I had to squeeze the packets of butter to make sure they were the right temperature."
Worse still was the story she heard from another assistant that Whitlock says "is just extraordinary, probably reaching the level of urban legend at this point."
Article continues below advertisement
"I knew an assistant who once had to pick up a stool sample from a boss' dog to take it to the vet," she reveals. "It was pretty terrible. The only way it could have been worse is if it was from the boss themselves!"
Whitlock's blog, ToMyAssistant.com, and her Twitter feed are full of similarly cringe-worthy stories, which she says she gets via submission and her own "flashbacks." She then writes them up as notes to her hypothetical future assistant.
(Whitlock says she's "neither busy enough nor rich enough" to have one now.)
"After my trainer, who I pay more per month than you make in six weeks, gives me a pedometer and assigns me a certain number of steps to take each day," she writes to her future assistant in one post inspired by a real assistant's story, "I will not regularly make you clip it onto your waist and take laps around the outside of our building during lunch while I sit at my desk and eat a double serving of Lean Cuisines."
Article continues below advertisement
In another, she promises, "When the chef at my favorite restaurant takes my favorite salad off the menu, I will not throw a 20-minute temper tantrum, directed at you, before wondering aloud if it's your "lack of phone manners" that prompted this terrible tragedy."
Yet another ripped-from-real-life entry reads, "I will not get mad at you when I get back from lunch at a particular restaurant you recommended to me, because the person I believe to be my business nemesis was also there, "and you should have known better."
Whitlock collected these and dozens of other entries for her book, To My Assistant: Things I'll Never Do to You, But Many Other Crazy Bosses Will, which was published this spring.
"I did it to expand the content beyond just what can be posted on Tumblr," Whitlock says, adding that it includes "transcripts of email conversations and I'm conversations based on past experiences."
And even though she's since been pretty much blacklisted from the Hollywood assistant pool, she harbors no resentment and says the book is meant to entertain assistants, not embarrass their bosses.
Whitlock says, "Hopefully assistants can pick it up and laugh at it and not feel so alone."
Share your own horrible bosses stories in the comments!
youtube=https://www.youtube.com/watch?v=SxtbBeFPcno&w=420&h=315