Truth Behind The 'Dream Girls' Feud! Jennifer Threw Diva Fit Over Beyonce's Glam Costumes, Superstar Jealous Of Hudson's Oscar Win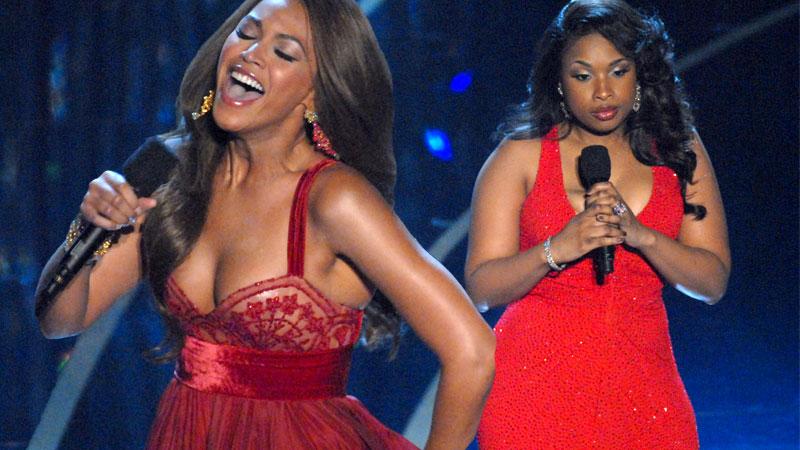 Beyonce and Jennifer Hudson have long denied rumors of a feud during their Dream Girls days— but according to an explosive new tell-all, there was more truth to the reports than the women were willing to admit.
According to celebrity journalist J. Randy Taraborrelli's upcoming book Becoming Beyonce, the two singers— Hudson still relatively unknown— got along well when they first started filming in early 2006.
Article continues below advertisement
But tension began building when Hudson, now 34, and costar Anika Noni Rose became outraged by what they believed to be special attention paid to Beyonce.
"The two thought Beyonce was given all the best wardrobe, and according to multiple sources, kept going to costume designer Sharon Davis and complaining about it," the author claims.
Davis seems to confirm the rumors, telling Taraborrelli "It's very true that Jennifer and Anika would see Beyonce in an outfit and say, 'Damn! We want to look like her!'"
Hudson and Rose were also jealous of their big-name costar, now 34, during the press tours prior to the film's December 2006 release.
"Throughout the whole press junket, Anika and Jennifer both wanted to be Beyonce," a source allegedly told Taraborrelli.
However, the tables turned when critics raved over newcomer Hudson's performance, and virtually ignored Beyonce, who was already an international superstar by then.
Article continues below advertisement
The American Idol alum even won an Oscar for her bombshell portrayal of Effie White.
"This was tough goin' for Beyonce," an insider told the author. "…She has an ego like every other superstar in her position. So to have a blockbuster movie like this one ripped out from under her by a novice like Jennifer Hudson wasn't easy."
Beyonce was so envious of Hudson's newfound respect, she stopped reading anything about Dream Girls in the media, the writer claims.
And she wasn't there for Hudson when tragedy hit in 2008, and the Oscar-winner's mother, brother and nephew were murdered in her hometown of Chicago.
Despite a report claiming Beyonce attended the funeral, Taraborrelli alleges she was absent from the heartbreaking services, and instead attended a "Promote The Vote" party in Philadelphia with her husband Jay Z.
However, any bad feelings seem to have passed by January 2014, when Hudson attended Beyonce's mother Tina Knowles' 60th birthday party in New Orleans.