MORE Horrifying Claims: Presidential Candidate Ben Carson Butchered Brains, Paralyzed Patients –– EVEN LEFT A SPONGE IN A SKULL!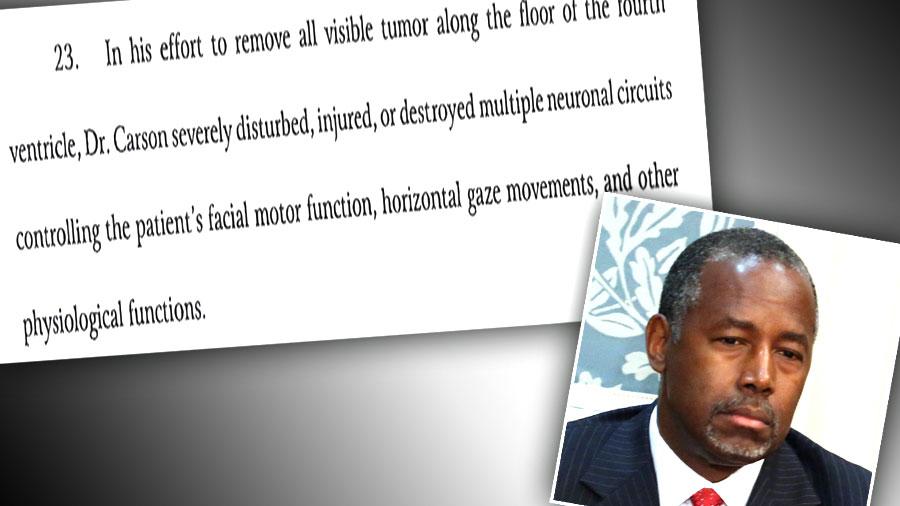 If Republican presidential candidate Ben Carson's track record as a neurosurgeon is any indication, his White House campaign could turn out to be a real mess. In a bombshell investigation into the candidate's medical career, RadarOnline.com has exclusively learned that the now-retired doc was accused of butchering patients' brains during surgery and even mistakenly leaving a surgical sponge in someone's skull!
Article continues below advertisement
According to at least six malpractice lawsuits against him obtained by RadarOnline.com, the 64-year-old married father of three was accused of being an absolute nightmare in the O.R.
READ THE HORRIFYING COURT DOCUMENTS
While Carson has been riding high off his claim to fame that he once successfully separated a pair of conjoined twins, one former patient, Karly Bailey, told RadarOnline.com, "He's totally untrustworthy!"
The 27-year-old Florida woman said he spent "maybe 14 minutes" with her and her parents before a delicate brain tumor operation that ended up ruining her life at age nine.
"My parents told him they weren't authorizing him to remove the whole tumor, because of the risk," she said. "But he did what he god****ed pleased. He tried to remove all of the tumor and injured my nerves and brain stem.
"I was paralyzed on my right side," she said. "I've never fully recovered. My eyes dance around. It's like having permanent vertigo. I have chronic fatigue. My face droops and people are really cruel. They ask me if I've had dental work or a stroke."
Article continues below advertisement
Her parents sued Carson and Johns Hopkins Hospital for medical malpractice in 2010, claiming he was guilty of "severely disturbing, injuring, or destroying multiple neuronal circuits" in her brain. As a result, the lawsuit claimed, she suffered "physiological and neurological deficits."
Carson called bailey's post-op problems "unavoidable" in a 2011 affidavit. In 2013, the case was dismissed for lack of prosecution.
But RadarOnline.com found even more complaints about Carson dating all the way back to 1986 – a year before his big success with the twins.
One allegedly botched operation involved a patient, identified as John Sparco. In court documents obtained by RadarOnline.com, Sparco said Carson and three other surgeons operated on him to remove a deadly tumor.
During the procedure, the man suffered "irreversible" injuries, causing a deaf ear, dizziness and slurred speech, according to the documents. "To strangers he appears to be drunk," said his lawyer. That case was settled in arbitration.
Article continues below advertisement
Carson was slammed for another botched surgery – this one in 1999. After he operated on a female child from Michigan, it was later determined by X-rays taken at another hospital that the patient's post-op severe pain was the result of a shunt that was put in "upside down" in her head! The patient's mother filed a lawsuit, claiming her daughter subsequently suffered "brain/nerve damage" in 2002, but it was dismissed for lack of prosecution in 2004.
Another horrible case involved 69-year-old Florida woman Darlene King, who claimed her eardrums were perforated during 2008 surgery by Carson's team for facial pain.
PHOTOS; Tummy Tuck? 'Teen Mom' Chelsea Houska Responds To Plastic Surgery Rumors Following Body Makeover
When the pain recurred, Carson told her she might have a tumor, according to the documents. Surgery revealed, however, that the lump was "a sponge he had left in (her) brain!" She sued him for medical malpractice in 2011, but asked in 2014 that the case be dismissed.
Article continues below advertisement
Maryland patient Mary Perna, 58, consulted him in 1994 for multiple sclerosis side-effects including pain. She charged he said the cure was brain surgery.
When it did nothing to help, she claims he came into her hospital room "in a highly agitated state" and admitted he hadn't reviewed pre-op MRIs. He allegedly said that had he done so, "We would never have done the (surgery)." The case went to arbitrage.
Two years before announcing his candidacy for president, Carson retired as a surgeon in March 2013. "I'd much rather quit when I'm at the top of my game," he said.
Would you vote for Ben Carson? Sound off in the comments below!