Unemployed! Tori Spelling Tells Friends She Might Never Work Again -- Her Secret 'Physical & Emotional' Issues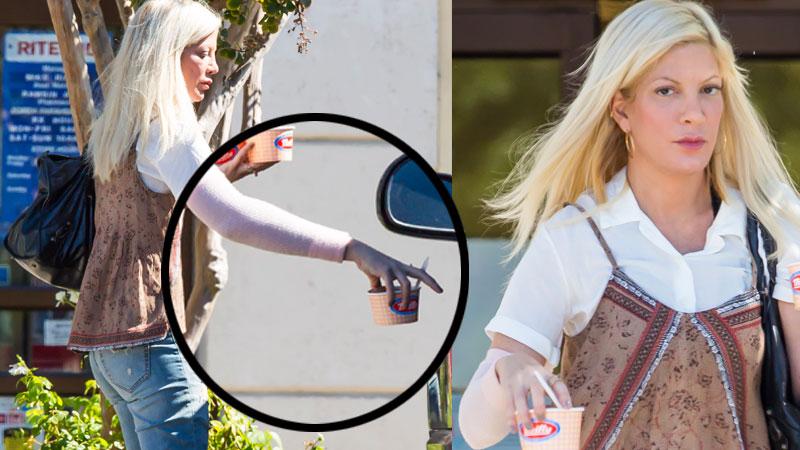 Tori Spelling is desperate for a paycheck, but it doesn't look like she'll get one any time soon! RadarOnline.com has learned the actress and reality star is telling friends she is unable to work since allegedly incurring a horrific burn injury at a local Benihana restaurant.
Spelling has filed a lawsuit against the restaurant because she claims that during a family outing to Benihana on Easter Sunday, she fell backwards as she was leaving, tripping into a scorching grill. Spelling was ultimately hospitalized with burns and claims she underwent painful skin grafts.
Article continues below advertisement
Now Spelling is telling friends, "it's just too painful for her to work," an insider told Radar. "There is terrible nerve damage, and Tori often feels numbness in her right hand. Tori won't be working until the lawsuit is resolved.
In fact, the source said, "She's uncertain if she will ever be able to work again because of the physical and emotional scars! Tori will be going after a big payday from Benihana."
As Radar reported, Spelling recently has asked friends for money because she is having problems paying her bills.
The stunning turn of events has her close friends "shocked because Tori had been saying until recently that things were going very well for the family financially," an insider previously told Radar.
"But after Tori asked a close friend, another well known actress, for money, it really became apparent the family is in trouble."
The financial problems recently forced the couple to move out of their rental mansion, and into smaller digs.