Outrageous New Tell-All Claims Sex-Crazed Bill Clinton 'Violently' Assaulted Women — Furious Hillary's Reaction REVEALED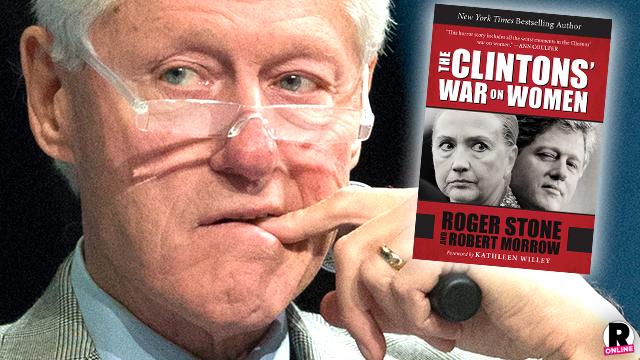 Monica Lewinsky and Gennifer Flowers were just the tip of the iceberg that could sink Hillary Clinton's presidential run! RadarOnline.com has learned that an explosive new tell-all is making outrageous claims about Bill Clinton's secret sex life -- including allegations of assault.
A former campaign adviser to Donald Trump, Roger Stone, makes the claims in a book, The Clintons' War on Women, that is being rushed out next month.
Article continues below advertisement
"The most vile part of the Clinton story is about non-consensual sex...," Stone writes in the book. "Clinton would get physical, tearing the clothes off his victims." The book claims he bit at least three of them on the lip.
A lawyer for Clinton called Broaddrick's allegations "absolutely false."
The "trademark" victim, according to Stone, is Juanita Broadrrick, who charged that Hillary's husband accosted her at a hotel during his 1978 Arkansas gubernatorial campaign, "'violently" chomping on her upper lip and throwing her on a bed.
Stone writes, "...Bill bit her lip so hard he almost severed it. Broaddrick said she 'felt paralyzed and started to cry.'"
"Broaddrick said she will never forget how Clinton calmly donned his sunglasses…He then offered a suggestion for her mangled lip: 'You better get some ice on that.' He told Juanita not to worry about getting pregnant because he had the mumps as a kid and was sterile."
Stone quotes witnesses including a Broaddrick pal who allegedly found her "in a state of shock, her lip swollen, mouth bruised, and her pantyhose torn at the crotch."
When Hillary learned of the allegations, Stone claims she screamed to aides, "You will never believe what the mother----er did now…"
"Instead of calling the police, she immediately began covering for her political partner," the book claims. Stone also cites 14 cases in which Hillary allegedly hired private detectives who "threatened and silenced" Bill's victims.
"If Hillary intends to build her campaign around an appeal to women, her campaign is built on quicksand," Stone says.