Exclusive
Keep Out! Humiliated Hillary Clinton Banned White House Visitors After Monica Lewinsky Scandal -- Plus Why Bill Was Bruised & Bloodied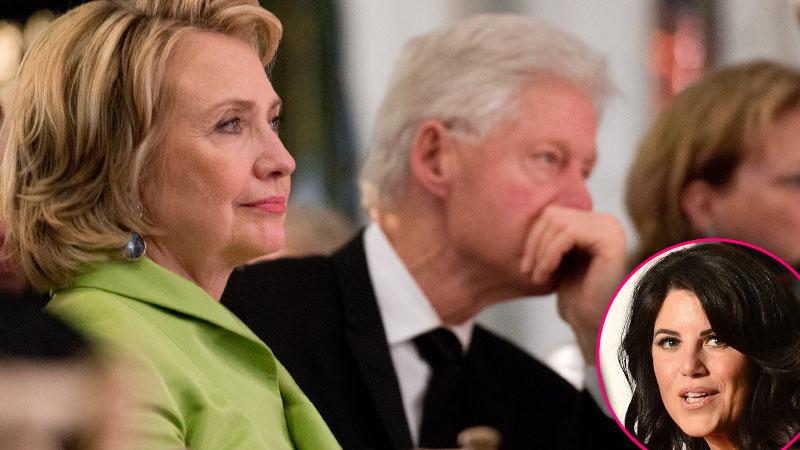 Publicly, Hillary Clinton was the picture of unerring support as her husband Bill weathered the Monica Lewinsky scandal in 1999. But now, as she prepares for her own presidential run more than 15 years later, a new tell-all has ripped the lid off what really happened during those dark days behind White House doors. From banning visitors to berating Secret Service agents and even possibly beating Bill, Hillary was a woman on the verge of a breakdown, says the book, and RadarOnline.com has all the details.
Article continues below advertisement
Kate Anderson Brower, the author of The Residence: Inside The Private World Of The White House, describes Hillary as "tired and depressed" -- and periodically enraged -- by Bill's cheating with the 22 -year-old intern Lewinsky.
She was so incensed, Brower claims, that she could not stand to see tourists, or even her own Secret Service agents, tramping through her halls.
"She craved the one thing she couldn't have: privacy," former White House usher Worthington White told Brower in the book.
According to Brower, White, "recalled clearing tourists out of the White House and keeping her Secret Service agents at bay so that the first lady could enjoy a few short hours of privacy by the pool."
White claims that he told Hillary's lead Secret Service agent: "If anybody sees her, or she sees anybody, I'm going to get fired, I know it. And you probably will too'.
Hillary rode the elevator to the pool, where she spent three and a half hours, sitting on her own and looking "heartbroken," the book claims.
Article continues below advertisement
But Bill didn't escape the scandal unscathed. Beyond the public humiliation, Brower quotes former staff as saying that ''for three or four months,'' Bill was exiled to sleep "on a sofa in a private study attached to their bedroom."
One night, the book says, he tried to creep back into Hillary's bed, but in the morning, a maid discovered the sheets were covered in blood.
Bill insisted he had hurt himself, the book claims, colliding with a bathroom door. Bat a servant told Brower, "We're pretty sure Mrs. Clinton clocked him with a book"
The couple kept at least 20 books on a bedside table, including the Bible, Brower says.