A 'Live Therapy Session': Emotional Artie Lange 'Bares His Soul' Responding To Howard Stern's Latest Comments –– All The Awkward Details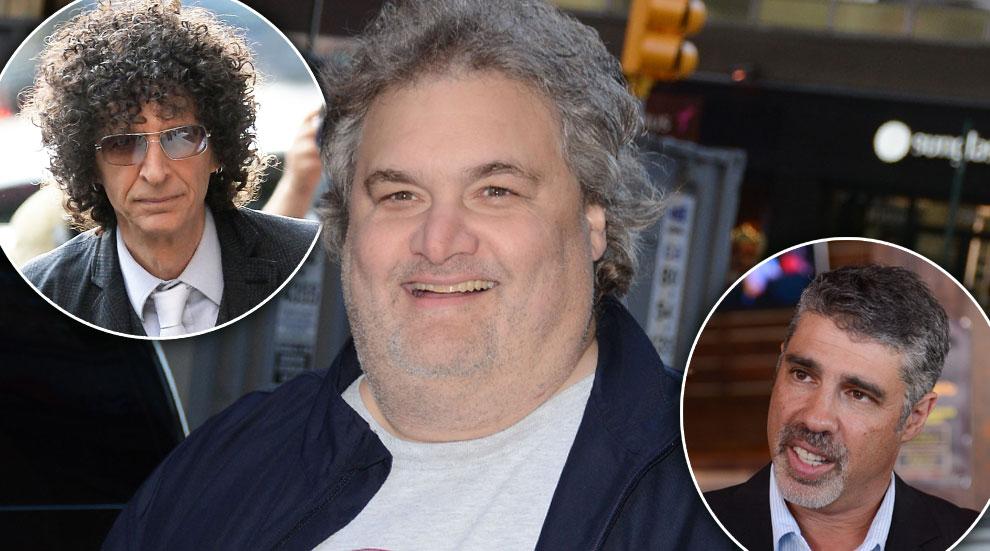 Artie Lange promised to "bare his soul … in a more comprehensive way than I have in the past," and did just that on his podcast Monday, addressing the controversy surrounding his estrangement with Howard Stern in an emotional monologue he dubbed a "live therapy session."
Mutual Admiration Society
Last week, Lange and Stern went back-and-forth on their respective shows over Stern's revamped, politically correct image, and the fact that Stern won't return Lange's calls -- both taboo topics that hadn't been directly addressed publicly until recently. Stern Monday lavished Lange with praise on his radio show, saying that "it's obvious" he loves his former co-host. "I love the guy ... I have tremendous affection for Artie," Stern told his listeners. "He always gave 100 percent, I had an incredible time working with him, and I am also very sad at what happened to him and his health, and his mental health, but I'm a big Artie fan and I root for him." The Private Parts star tried to put a bow on the uncomfortable situation in saying that "Artie has done nothing wrong to me, and I have done nothing wrong to Artie."
Article continues below advertisement
Watch the Video On RadarOnline.com
Lange on his podcast Monday stressed that he harbors no ill will towards Stern, despite that the King of All Media has kept his distance and not returned any of Lange's calls since the comic left the show after his 2010 suicide attempt. "I promise you, on a lot of levels, I have reached out to him, and he has not responded," Lange said of the radio icon. The New Jersey native noted that it's been a relatively common pattern in his life, and that former girlfriends have done the same after dealing with his ongoing "hurricanes" of self-destructive behavior over the past 20 years. Lange said, "I'm telling you to make this point: Give Howard a break. Sure he's not talking to me anymore, he cut me out of his life, but he's not the first one to have this reaction to me." Stressing that his insights Monday were not a "bash-fest" on Stern or his show, Lange said with a heavy heart, "It's weird, I might not ever see the guy again, or talk to him … and that means more to me than it seems to to him, and it hurts me a little bit and that's as honest as I can f**king be."
Defends RadarOnline.com's Report
On Monday, the King Of All Media addressed RadarOnline.com's reporting of the ongoing situation, saying that he "got sucked in," in saying that he was "hurt" by comments Lange and ex-staffer "Stuttering" John Melendez made regarding the broken relationships, and the brash changes Stern's show has undergone recent years. "I got sucked in, I should've said, 'I didn't hear the podcast,' all I did was read an article." Stern -- who admitted he hasn't listened to any of Lange's podcasts -- said that RadarOnline.com's reports on the rivalry were "inaccurate," and that he didn't "want to get into sucked into someone's fabrication, but he did." Lange noted this in his podcast, saying that "the other thing Stern said was that he didn't actually hear the podcast" when he said he was "hurt" in his reaction to the RadarOnline.com story. Lange continued, "So even when he was talking today nicely -- which I appreciated -- he still hasn't heard it. I mean take a little time … if you're not gonna talk to me in person, maybe listen to the podcast, take a couple of minutes." Lange said he feels the miscommunication occurred because Stern could not hear the loving tone in his voice during his podcast, and defended the reports as accurate.
Article continues below advertisement
Ba-Ba Bad Blood?
One of the sensitive sticking points Lange talked about on Monday's podcast was an awkward exchange with Stern producer Gary Dell'Abate in late 2013, when the comic was on the promotional trail for his second book, "Crash and Burn." Lange said that the literary giant that was publishing the book, Simon & Schuster, had been nudging him to try and make an appearance on the show to hit his target audience. He told Simon & Schuster officials that he preferred to reach out in an attempt to get the booking because of his personal ties to the show, despite an uncomfortable feeling surrounding the circumstances.
"I didn't want to do this because my pride was like, 'OK, I'm giving them the chance to tell me to f**k off,' like, 'OK you were here on heroin, lying, missing work, you put us in a very bad position … and now you're coming back because you need to plug a book,'" Lange said, adding that he'd prefer to have gone on without anything to plug. He said that after reaching out to Dell'Abate, he had mixed feelings when his request was promptly denied. "The next day, Gary called me back promptly and he said, 'Art, I talked to Howard about you coming on for the book,'" Lange said. "And then he went -- kind of, in my head, with a smirk on his face ... he said, 'Look, it just ain't going to happen or, 'It's just not happening" is what he said -- to me, the way he said it was kind of like a 'F**k off, you need us now, and f**k you -- but that could not have been what it was." Lange went on to speculate that he was "probably wrong" about Dell'Abate relishing the chance to turn him down for an appearance, adding, "This is me projecting sh*t on people."
Article continues below advertisement
Lange went on to say that he understands that Dell'Abate probably wasn't the one to make the difficult decision, but had the unenviable task of delivering it. Lange said the strained relations continued when he sent a text to Dell'Abate earlier this month to react to a bit he heard on the air -- and Dell'Abate texted him back letting him know that the show he was listening to was actually a rerun. "I texted back, 'It's the Wednesday after Labor Day, man I left at the wrong time, when do you guys f***ing work?'" Lange said. "I could tell he didn't want to react to that, which is odd he felt nervous to even address that." While the two got along well throughout Lange's time on the show, they did have a vicious spat in February of 2009, Lange's last year on the show, after the Dirty Work star was upset with Dell'Abate for questioning his honesty on the air.
Blacklisted?
Lange -- who said that he's really "felt abandoned, completely abandoned, by people he was close to professionally and personally" -- said that after his attempts to appear on the show failed, Simon & Schuster's attempts to buy commercial time were turned down. "The book company tried to buy ads, Stern didn't even have to speak, they would play on the air during the commercials and he wouldn't even have to hear them -- they wouldn't accept the ads," he said. "They wouldn't even accept money … because it was me they said no, flat out no." Noting that Simon & Schuster officials were shocked by the rebuffed business offer, Lange said, "There's a personal thing going on there and it was like, 'OK I got to deal with this.'" Lange said that Stern Show personality Shuli Egar "in the last few years, has opened for me at gigs, but that stopped, that's dried up." He speculated, "I get the idea that there might be an issue if one of them work with me which is odd ... I don't think that those guys would reach out to me, and not because of what they personally think, but because of the situation, that they don't want to be involved with me." The witty "Too Fat To Fish" author added of the strained relations: "During the Cold War, it was easier for spies to communicate!"