Naya Rivera Is At It Again! 'Glee' Star Blatantly Rips Off Kim Kardashian's Nude Baby Bump –– See The Shocking Photo Inside Our Post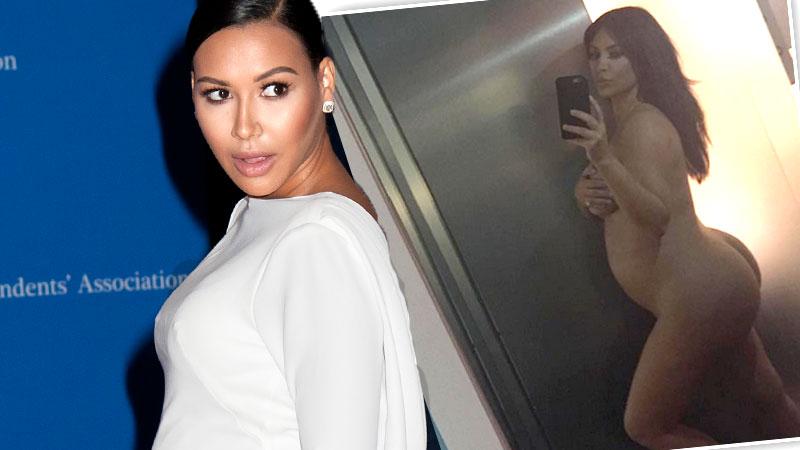 If imitation is the highest form of flattery, Naya Rivera LOVES Kim Kardashian! The former Glee star continued her trend of following in the reality star's footsteps by posing in a nude baby bump shot hours after the mega-famous reality star did the same.
The sexy image -- showing the 28-year-old stunner wearing just a strategically-placed fur coat -- was actually posted by her hairstylist Clyde Haygood, who captioned the post: #Uncle Clyde can hardly wait to meet Baby Dorsey... #anticipation."
Article continues below advertisement
As RadarOnline.com previously reported, Kim confidante Jonathan Cheban called out Rivera as a copycat and a phony late last year after the actress claimed that Kim's racy nude spread for Paper magazine was inappropriate behavior for "someone's mother."
Cheban ripped into Rivera's nearly-identical styling to the reality star, comparing her to Jennifer Jason Leigh's copycat stalker character from the 1992 film Single White Female, and saying she was on a "year-long tour of impersonating Kim."
Cheban added that the criticism was also a calculated career move, writing: "As expected, she's getting some press and when all else fails, use Kim."
https://instagram.com/p/6P0GX0K4PL
Rivera Monday wrote in her blog about entering her third trimester of pregnancy, detailing the struggles she faces as a mom-to-be.
https://instagram.com/p/6P0-KluS5-/
"Being in my third trimester means hard work is ahead and every day a new body part aches or seemingly falls apart. But it also comes with its share of really fun and exciting things too," the stunning actress wrote. "So hats off to all of the strong, powerful women and mothers in the world, baby or no baby, you're all amazing!"