Molestation Scandal: Hollywood's Child Sex Abuse Coverup – Child Stars Like Cory Haim Victimized By Mentors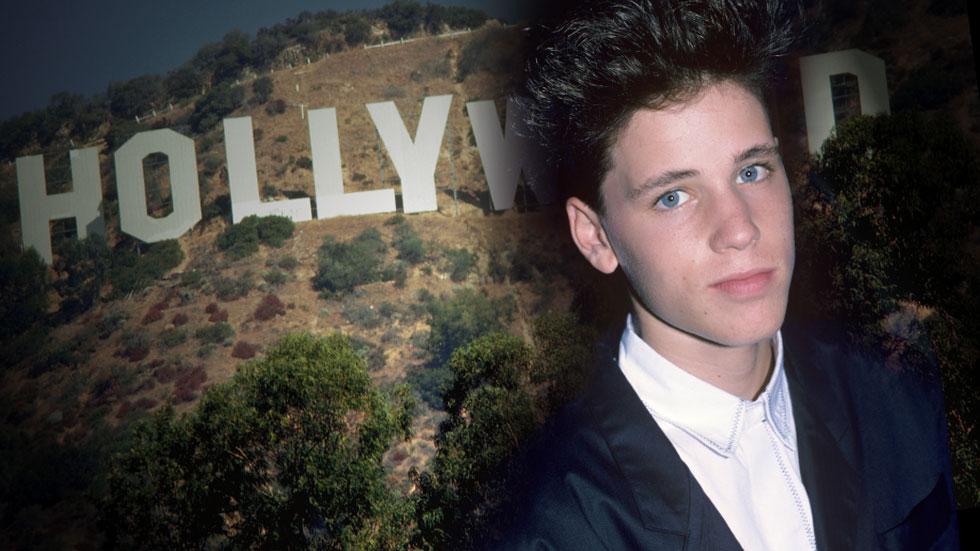 Children rely on adults for guidance and protection, but as RadarOnline.com has learned exclusively, Hollywood is hiding a dark underbelly in which child stars are being sexually abused by mentors and coaches who exploit youthful innocence for their own devious desires.
As Radar has reported 80's teen icon Corey Haim first went public with his explosive molestation allegations on his reality show, The Two Coreys. On the show, he revealed to his co-star Corey Feldman that he began engaging in self-mutilation after being sexually assaulted by a man while filming the coming-of-age drama Lucas in 1985. "I was raped, so to speak, when I was about 14-and-a-half years old," he admitted while remaining mum on the identity of the culprit.
Article continues below advertisement
The internally tormented star died in March 2010 after a long battle with drug addiction, but before he passed away, he revealed the name of his attacker to two sources who spoke exclusively with Radar. "Corey had bottled everything up, but he finally told me what happened when he was in his mid-20s," one source said. "The man was the first of two who molested him. These men chewed him up and spat him out."
The source also revealed that like many victims, Haim feared that if he sought justice, nobody would believe him. "Friends said Corey should sue them. But Corey told me, 'No one would ever believe me! I'm a big star, but ----- his first molester is bigger,'" the source said. "Corey was afraid that if he named him, Hollywood would ostracize him."
Actor-director Dominick Brascia, 58, confirmed the attacker's name to Radar. In the past, there had been speculation that Brascia was one of Haim's attackers, a charge that was fueled by details included in the Feldman's book Coreyography. However, Brascia has vehemently denied the accusations. "People have contacted me accusing me of being someone named Tony in Feldman's book," he wrote in a rebuttal on the book's Amazon page. "Fact I have NEVER been arrested or even accused of anything illegal." Brascia told Radar that he also complained to the book's publisher, St. Martin's Press, and received an apology that read, "It was neither Mr. Feldman's nor St. Martin's intention to identify you, or to publicly accuse you of any wrongdoing."
Article continues below advertisement
However, while Brascia denied being involved in the molestation, he was able to provide details of Haim's interaction with his true attacker, saying that at age 14 Haim was so confused by the sexual encounter with his rapist that he "fell in love with him." Brascia also revealed that Haim was so afraid that he may be gay that he "wanted to kill himself."
Far from being an isolated incident, child exploitation by powerful Hollywood pedophiles has been rampant. Manager Bob Villard, who mentored child actors Tobey Maguire and Leonardo DiCaprio, pleaded no contest to a misdemeanor after thousands of photos of boys in skimpy bathing suits were found at his home. Villard finally went to prison following another no contest plea in 2005 to committing a lewd act on a 13-year-old boy who sought him out as an acting coach.
Composer Fernando Rivas, who created music for Sesame Street and Disney, also created and sent child pornography over the Internet, which grim-faced prosecutors said included a horrifying video of a naked and restrained foour-year-old girl.
Jason James Murphy was a casting agent on kid-friendly fare School of Rock and Bad News Bears. Murphy was also a registered sex offender who once kidnapped and molested an eight-year-old boy.
Finally, in 2004, actor Brian Peck admitted that he had molested his protégé. However, this revelation has not prevented him from continuing to work in Hollywood – even on children's movies like Jack and the Beanstalk. What's more, Peck was allegedly hired by the same Tinseltown kingpin at the center of the Haim molestation scandal.