Exclusive
Secret Police Tape: Child Star Corey Feldman First Detailed How He Was 'Molested' In 1993… But Cops Did 'Zero' To Catch Sexual Predator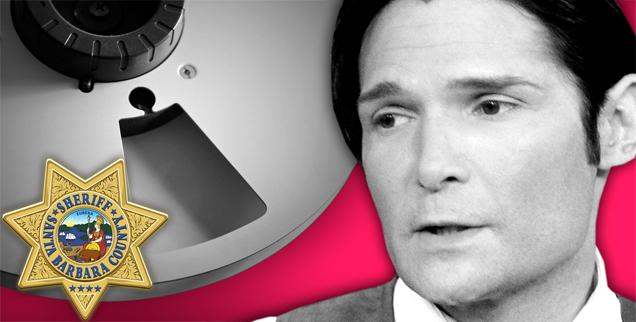 Corey Feldman revealed to police that he had been molested more than two decades ago, but he claims they did nothing to investigate the sexual predator who had systematically raped him, RadarOnline.com has exclusively learned.
We have uncovered a recording of the Stand By Me actor's interview with Santa Barbara sheriffs, recorded in December 1993 when he was aged 22, during which he told them: "I myself was molested."
Article continues below advertisement
The grilling was part of the sheriffs' investigation into his close pal Michael Jackson who, at the time, was facing child molestation charges brought by Jordy Chandler and his family.
Shockingly, Feldman actually named his alleged abusers -- we have excluded them from the excerpt, below -- but the detectives expressed little interest in investigating the monsters, instead lasering in on the "King Of Pop" instead.
"I know what it's like to go through those feelings and believe me, the person who molested me, if this was him that did that to me, this would be a different story," Feldman told Sgt. Deborah Linden and Detective Russ Birchim.
"I would be out there, up front, doing something immediately to have this man given what was due to him."
The frustrated star is now questioning why his report went nowhere.
"All names were given to police before statute had run out but they did zero," he wrote to a fan on Twitter recently, who had asked why he did not report the men to authorities.
Article continues below advertisement
radar_embed service=5min.com src="http://pshared.5min.com/Scripts/PlayerSeed.js?sid=1126&width=570&height=351&playList=517995961&sequential=1&shuffle=0"
The Santa Barbara County Sheriff's Office did not respond to Radar's request for comment and questions as to why it did not investigate the matter.
In his new memoir, Coreyography, Feldman recounted in graphic detail the sexual abuse he and the late Corey Haim endured at the height of their fame.
He named their abusers as Ron, Tony, Burnham and Crimson -- all pseudonyms.
Having already starred in Goonies, he described how he descended into a drug haze in the company of a man, in his early 20s, who would sexually exploit him for years.
One night when Feldman was close to passing out from drugs, Crimson unbuttoned the teenager's pants before leading him into the bedroom, Feldman detailed.
The next morning, Feldman woke up disgusted and hoped the incident would be buried and forgotten, he said.
Article continues below advertisement
But Crimson thereafter approached him in a sexual nature again and again and Feldman relented, indicating that he was too confused and scared to push the man out of his life.
"I don't know why I couldn't confront Ron, but I was consumed with guilt. I felt like the whole thing was my fault," Feldman penned.
"I desperately wanted him to stop, but I was afraid of losing my friend."
Haim was the first of the two to be sexually assaulted, Feldman wrote, at age 14.
"Within hours of our first meeting, we found ourselves talking about 'Lucas,' the film he made in the summer of 1985, the role I had wanted for myself," Feldman wrote.
"At some point during the filming, he explained an adult male convinced him that it was perfectly normal for older men and younger boys in the business to have sexual relations, that it was what all 'guys do.'
"During a lunch break for the cast and crew, and Haim, innocent and ambitious as he was, allowed himself to be sodomized."
The man who abused Haim on the set of Lucas, now "walks around, one of the most successful people in the entertainment industry, still making money hand over fist," according to Feldman.