'It Got Creepy': Porn Star Reveals Shocking Details Of Rough, Unprotected Sex With Josh Duggar While Wife Anna Was Pregnant: Report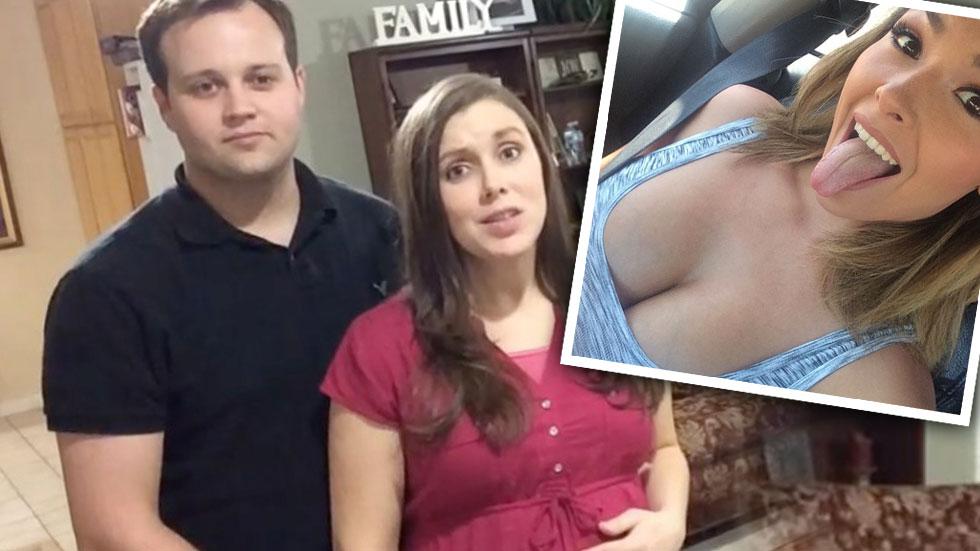 Josh Duggar twice had rough, unprotected sex with stripper-porn star Danica Dillon, while his wife Anna was expecting their fourth child, RadarOnline.com has learned.
The 28-year-old sex worker, who passed a lie detector test for In Touch on Sunday, told the magazine that she had run-ins with the supposedly-religious reality star at two strip clubs in Pennsylvania earlier this year.
Watch: Jim Bob Duggar was 'devastated' by sons Josh's Admission
Article continues below advertisement
Dillon (whose real name is Ashley Lewis) said that one instance came at Philadelphia's Gold Club this past March, where the 27-year-old approached her like a sex-charged fanboy.
"He walked into the Gold Club like a normal patron and said he'd been a fan for a long time and has watched my career grow -- he even said from before my boob job until recently -- and that he loved watching my very first scene.
"Then it got creepy."
After he stared at her onstage gyrations, Dillon told the magazine that over the course of $600 in lap dances, the porn addict propositioned her for sex, asking her, "What would it take?"
After Josh sealed the deal with a $1,500 offer, Dillon said that the two had sex and that Duggar was so rough with her, the experience "was terrifying."
"He was manhandling me, basically tossing me around like I was a rag doll," she said. "It was very traumatic."
Article continues below advertisement
Dillon said the kinky Duggar "started talking dirty" to her, saying, "'Come on, be a good, dirty little bleep.'"
During the consensual sex, Dillon said Duggar put his hands around her neck as he spewed out vile sexual talk. Adding insult to injury, Duggar shorted her $500 from the initial agreed-upon fee.
Dillon said another sexual rendezvous occurred after she performed at the Colmar, Pa.'s Creekside Cabaret in April.
In the club, she said that "Josh walked up with photos of me from scenes I'd done."
In a jarring reminder of his admitted acts of molestation, Dillon told the magazine that some of the photos were "from my cute and innocent-looking days when I was 22 but looked 15 -- and he asked me to sign them."
In one graphic shot Duggar brought, Dillon told the magazine, her "makeup was all over her face, as she was in tears," adding, "I don't see how that was pretty or how anyone would want that signed."
Article continues below advertisement
Again, Duggar propositioned her for sex, but she was reluctant due to his rough sexual habits.
Duggar promised to "be more gentle" and to pay the full $1,500, so she agreed. Dillon told the magazine she kept a phone by the bed the second time, just in case if she had to call 911, but Duggar was less physically aggressive, albeit still verbally abusive.
Dillon predicted to In Touch that more women will share similar stories of Duggar's depraved ways now that she's broken her silence.
"I think that after I come out, there will probably be plenty more girls after me," Dillon said. "I actually really hope that his wife leaves him and takes his children away from him and leaves him a lonely, bitter man. I don't think he deserves happiness."
She continued, "I do not see Josh as a good man in anyway. I believe he has some really deep, dark hidden secrets that he needs to seek help for."
Article continues below advertisement
As for his admitted acts of incest and molestation during his teens, Dillon said, "Now that I'm aware of his relations with his sisters, I feel slightly disgusting myself. I in no way, shape or form, condone incest -- it's disgusting in every way."
As RadarOnline.com previously reported, Duggar called himself "the biggest hypocrite ever" after his name was leaked Aug. 19 as a member of the Ashley Madison website, which caters to cheating spouses.