Exclusive
From Exercise Ban To $1,000 Meals! Inside Justin Theroux & Jennifer Aniston Luxe Honeymoon –– All The Details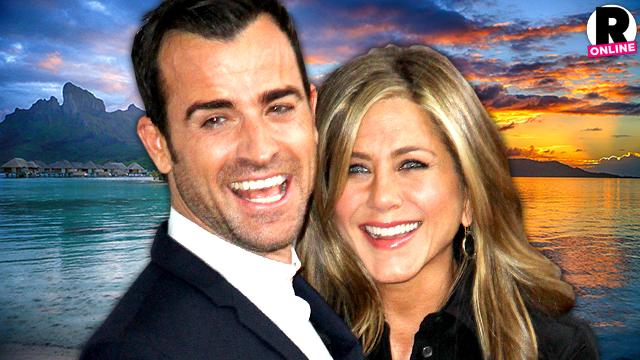 Justin Theroux was so excited about his recent honeymoon to Bora Bora with new wife Jennifer Aniston that he couldn't stop boasting about it to anyone who would listen!
In fact, a source tells RadarOnline.com that Theroux's co-stars on the Texas set of The Leftovers got quite an earful about the trip — from Aniston's ban on exercise and indulgent spa dates to the newly married couple's intimate dinner dates and day trips.
Article continues below advertisement
Aniston had one big rule while she and Theroux vacationed at the luxurious Four Seasons Bora Bora resort. "It was her honeymoon and she wanted it to be special," the source tells Radar. "She decided it wouldn't be their ordinary vacation, where they still worked out. This was going to be about romance, friends and relaxation."
Aniston never got on an exercise bike at the gym, but in keeping with her honeymoon creed, she did take advantage of the Four Season's spa facilities.
"She got body, face and leg and arm treatments, along with feet massages, manicure and pedicures," reveals the source.
Even Theroux got in on the pampering — with his wife right by his side! The two indulged in the overwater couples spa suite, for a romantic massage together, continues the source.
When they weren't taking it easy, the newlyweds joined friends, including Jimmy Kimmel, Jason Bateman and their families, for fun excursions.
Article continues below advertisement
"As a group, they all went snorkeling, jet skiing, stand up paddle boarding and deep sea fishing," notes the source.
Occasionally at night, Aniston and Theroux's famous friends left their kids in the care of the Four Seasons babysitting services so they could enjoy a nice quiet dinner together.
"They all dined on French Polynesian food, Asian foods, sushi and drank tropical cocktails, which almost always included tequila for Jennifer," says the source.
And since it was the South Pacific, they hit the Fare Hoa BBQ on the beach and even enjoyed a Polynesian show.
Of course, Aniston, 46, and 44-year-old Theroux did make sure the trip was romantic, and they took off on their own occasionally.
Explains the source, "Everyone knew that they wanted their friends along on their honeymoon, but they also understood that Jennifer and Justin wanted some private time, too."
Article continues below advertisement
Mealtime was always a special production for Aniston and Theroux. "In the mornings, Jennifer and Justin had breakfast delivered to them in a Polynesian canoe," says the source.
And the happy couple once took a canoe ride to enjoy a romantic meal of Wagyu beef and lobster, whipped up by a personal chef, on a secluded beach. Another night they sipped champagne and feasted on canapés while watching the sunset on another private beach.
Unsurprisingly, money was no object for the two Hollywood stars. The pair dropped nearly $1,000 during one three-course meal alone.
"It was quite the experience for all of them," says the source. "Justin's usually quiet about his private life, but he was so excited that he just couldn't stop talking about it."