The War Wages On! Heather Thomson Lashes Out On LuAnn de Lesseps For Bringing Married Man Home On Explosive 'RHONY' Reunion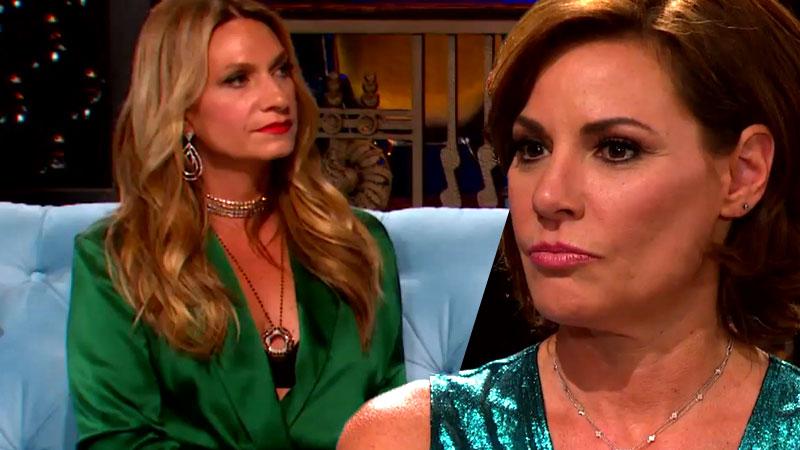 Bethenny Frankel called out Sonja Morgan for drinking, and Heather Thomson lashed out on LuAnn de Lesseps, on Thursday's Real Housewives of New York City reunion.
Sonja's drinking has been a topic of discussion all season after Bethenny allegedly called her an "alcoholic," and the arguments waged on -- and got even more heated during the season-ending socialite summit.
Bethenny tried to backtrack her statements, saying she "should've just walked away," but wasn't letting Sonja off the hook.
Article continues below advertisement
She said, "I'm not calling you an alcoholic. How would I know ? I was actually trying to get through to you and connect some of the things that some people were saying."
Sonja shot back: "I have admitted over and over that I went off the rails in Atlantic City and I reeled it back, kept to champagne and wine because I can't handle the liquor right now.
"What you were saying that minute was giving what they were saying credibility."
But Bethenny wasn't the only one who betrayed Sonja, who admitted that Ramona Singer deeply hurt her with her commentary about her wild behavior.
Sonja said, "I was very hurt that Ramona had said that -- I've known Ramona for so long she loves to create drama … she was always there with another glass of Rosé. You're the first to ask me to stay out longer."
Ramona, never one to take criticism lying down, went straight to apologize.
Article continues below advertisement
"We were all talking about her drinking problem that I kind of participated," the fiery redhead said. "I felt so bad that maybe I kind of threw you under the bus.
"We're all talking about you, and I didn't want to say I was talking and I threw it on you."
Sonja's drinking wasn't the only topic that waged a war amongst the ladies, either! Of course, Heather Thomson rehashed the drama about LuAnn de Lesseps bringing home a man in Turks and Caicos, but this time, all of the ladies ganged up on both the "Girl Code" singer and Ramona!
"Ramona, it is completely inappropriate and sloppy of you to send a complete stranger that you met two hours ago up to a random room," Kristen Taekman screamed. "That's gross and disgusting and that my friend is breaking girl code."
Watch the video right here on RadarOnline.com:
Speaking of "girl code," host Andy Cohen called out LuAnn for breaking "girl code" by bringing a married man back home. However, LuAnn denied having sex with him, saying, "I was hanging out with a guy on the beach. That's all I need to say and then he went home I sent him home. I'm a grown women I could do what I want."
Article continues below advertisement
"Nobody cares who you f**k or don't f**k, nobody gives a s**t," Heather said.
But then LuAnn turned it back on Heather for barging into her room the following morning.
"You offended me; you totally violated my privacy, that is the problem -- you don't get it and that's what I don't like," she said.
After the bickering ended, Heather eventually apologized, and Bethenny, of course, spoke her mind.
"This is the most ridiculous argument in Real Housewives history," she said.
Do you agree with Bethenny? Let us know in the comments section below!