Caitlyn Jenner Confronts Scott Disick On Camera: Does The Troubled Bad Boy Accept Her Transition?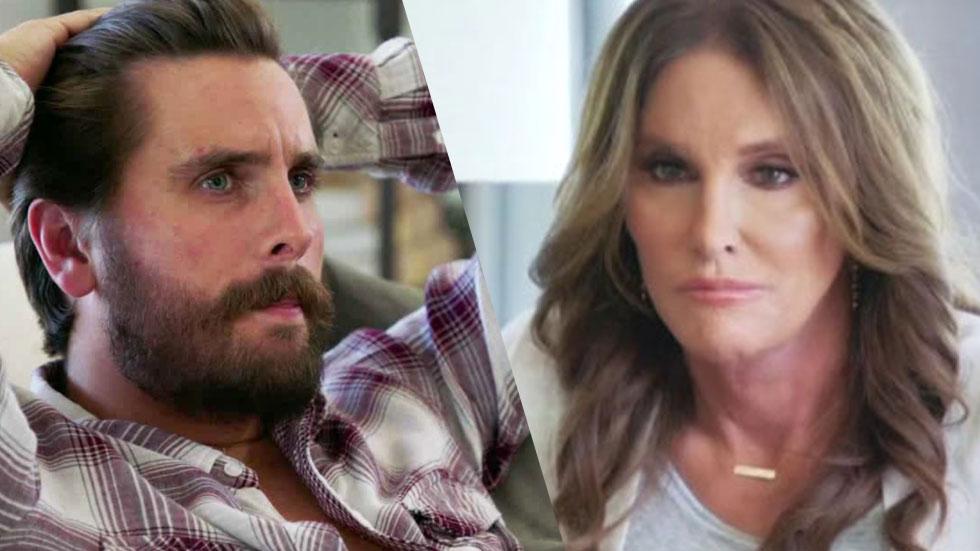 On the latest episode of I Am Cait, the 65-year-old stunner navigates her friendships with her guy pals— and who better to start with than former stepdaughter Kourtney Kardashian's baby daddy, Scott Disick?
Caitlyn invites the notorious troublemaker, 32, over to her Malibu estate for the first time since her very public transition.
"I want to stay close to my family members. He's the father of three of my grandkids," she explains to the cameras. "I really want to see the reaction of my male straight friends, and how they're going to deal with this situation."
Article continues below advertisement
She's admittedly very nervous when Scott rings the bell, screaming "Oh God!"
Luckily, Scott, who isn't exactly known for his warmth, greets Caitlyn immediately upon entering.
"Hello sexy lady! How's it going?" he says.
When Caitlyn responds she feels like a weight has been lifted off her chest, Scott breaks the ice with his infamous humor.
"It looks like you got some weight put on your chest!" he laughs, glancing at her brand new breasts.
He assures her that he accepts her new identity.
"You look great and seem happy, thats all that matters," he shrugs.
However, he admits that some men may not be as accepting. Caitlyn cites Kim's ex-husband, Kris Humphries, and his rude tweet following the Vanity Fair article.
"Anybody who's worth being in your life will understand and will work at the relationship," Scott assures her.
The two hug it out and make tentative plans for Caitlyn to host a party in Scott's stomping grounds, Las Vegas.
Article continues below advertisement
Later, when recounting the chat with new BFF Candis Cayne, Caitlyn fills her friend in on Kourtney's condition following her bitter breakup from Scott.
"She's doing as well she can do under the circumstances," she says. "Scott has a lot of issues...She'll be okay. Relationships aren't easy!"
And neither are friendships. Caitlyn is crushed when longtime pal Sergio fails to show up to her home after the two make plans.
"It looks like this is the first time I've been stood up!" she sighs.
But later in the episode, Caitlyn visits Sergio at the hobby shop he owns. After an awkward initial greeting, the friend gives his support.
"Whatever makes him happy...or her!" Sergio, who says he's never met a trans person before, tells the cameras.
Caitlyn is also nervous to stand up in front of thousands of new friends at New York's Gay Pride weekend.
Article continues below advertisement
Caitlyn, Candis and pal Chandi Moore take a private jet in order to attend the Dirty Sexy Money actress' one-woman show at club PH-D in the Big Apple's Dream Hotel during the big event.
After years of hiding her true identity, Caitlyn admits she's always been "worried" about "how people would react" to her public debut.
Fortunately, the revelers are thrilled to see her walk into the crowded room.
"Caitlyn! Caitlyn! Caitlyn!" they chant.
"I am so blessed to be get the reaction that I've gotten," she gushes. "It has been overwhelmingly good."
Though Scott and the Gay Pride partiers support Caitlyn, she may not receive such a warm welcome from her ex-wife, Kris.
In the coming weeks, Caitlyn will finally face off with the momager onscreen.
Do you think Caitlyn and Kris will hug it out? Sound off in the comments.