Bethenny Frankel Calls Ramona Singer A 'Bottom Feeder' While Fighting Over Stolen Dresses & Cheating Accusations On 'RHONY' Reunion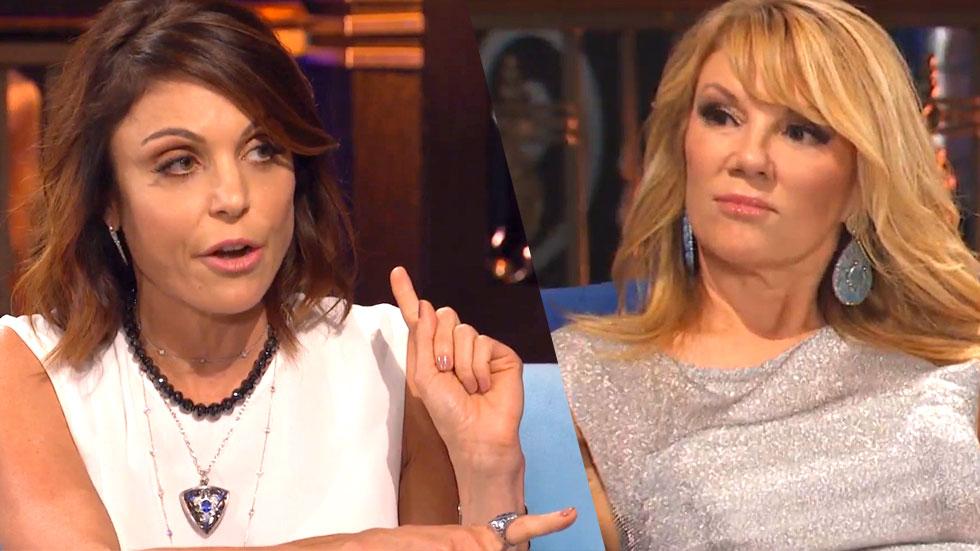 Bethenny Frankel revealed on this week's Real Housewives of New York that Ramona Singer has another side to her -- and it doesn't involve turtle time and Pinot Grigio!
On part two of the reunion special, Frankel slammed Singer for having a "nasty" and "cunning" side after she stole two of her dresses and accused her of cheating on her first husband.
Frankel explained that "Dressgate" started when wine spilled on Singer's outfit during her guest appearance on Frankel's defunct talk show Bethenny.
Article continues below advertisement
Singer borrowed a frock from the show and walked right out with it!
When Singer explained that Frankel's assistant said she could take the dress, Frankel said that Singer pretended to not be home when her assistant stopped by.
"I gave her a Milly dress in a box as a thank you so much for doing the show and understanding," Frankel explained. "We don't get the dress. Now I'm down two dresses."
Although Singer denied stealing the dresses during the season, she came clean about having both frocks and blamed her marital issues with her estranged husband Mario Singer on why she didn't return them.
When Singer asked, "What was so important about the dress," Frankel snapped, "It's my dress! It doesn't belong to you, it belongs to the show!"
Singer jabbed back, "The show is cancelled!"
Watch the video right here on RadarOnline.com
Frankel slammed Singer for a second time when she accused her of cheating on her first husband.
"You get nasty," Frankel said. "You have a cunning side to you."
Singer defended her claim by revealing that six people told her of Frankel's infidelity.
Article continues below advertisement
"Shut your f**king mouth if you don't know what you're talking about," she yelled. "They're a**holes and they're bottom feeders and you're one of them for doing that!"
Watch the video right here on RadarOnline.com
On the other side of the couch, Dorinda Medley had an axe to grind with Kristen Taekman, who accused Medley's boyfriend John Mahdessian of being too touchy while they were dancing.
Medley mocked Taekman's comments about the incident: "Oh my God he touched me! Oh my God he grabbed me! Oh my God I'm scared!"
She added, "Enough already. Aren't you a big girl? You did model topless."
Medley was on the warpath, as she then fired at Heather Thomson for ignoring her during a booze-filled night in Turks and Caicos.
"I ran up to say hello and you were very dismissive, as you do so well and it hurt my feelings," Medley said.
A shocked Thomson replied, "You have split personality."
But the group came to Thomson's defense, as they accused Medley of lashing out at others when she drinks.
Article continues below advertisement
"You have this underbelly of anger and it really comes out with alcohol," Taekman said, as Frankel added, "You have something that goes on when you drink."
Also on the episode, Singer explained the moment she caught her husband with his mistress Kasey Dexter at the couple's South Hampton home.
"He said, 'Don't come,' but I was going to come anyway," Singer said of wanting to go to the home to work on their marriage. "She was in the kitchen.
"She said, 'I came here for my contacts. I'm staying somewhere else.'"
She ended the heartbreaking story with: "It was a horror picture. I was in shock."
Part three of The Real Housewives of New York reunion airs Tuesday at 8/7c on Bravo.