Police Say 3 Dead, 9 Injured In 'Lone White Male's' Shooting Spree During 'Trainwreck' Showing –– 6 Latest Developments From Lafayette, Louisiana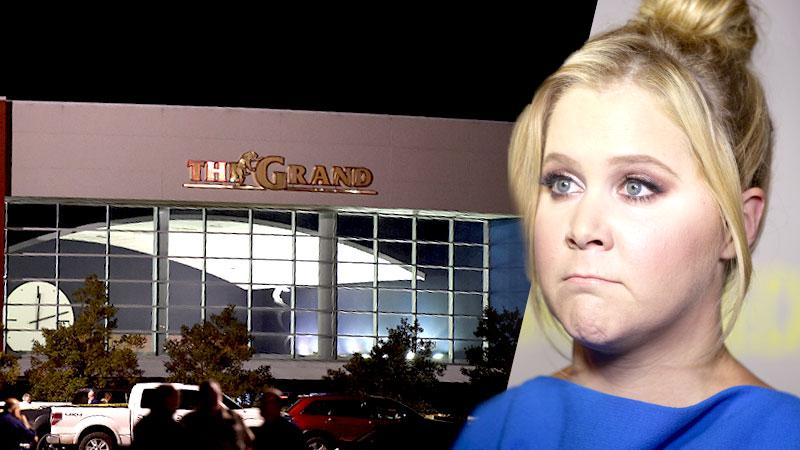 Three people are dead and nine hurt after a "lone white male," now identified as John Russell Houser, opened fire in a Lafayette La. theater during an evening showing of Amy Schumer's Trainwreck, police said.
The Latest
The shocking shooting spree occurred 20 minutes into the 7:10 p.m. screening of the comedy at the Grand 16 theater, Lafayette Police Chief Jim Craft said. Houser -- who began the carnage by shooting the two moviegoers in front of him -- has been identified as a 58-year-old man with a rap sheet. He was sitting in the theater like everyone else, before suddenly firing off 13 rounds on the unsuspecting audience.
Article continues below advertisement
"We heard a loud pop we thought was a firecracker," eyewitness Katie Domingue, who fled to safety with her fiancé, told The Advertiser. "He wasn't saying anything -- I didn't hear anybody screaming either." When the gunman tried to escape and saw authorities closing in on him, he retreated back into the theater and fatally shot himself, according to police. Houser's body remained in the theater along with that of one other victim, police said.
Houser, from Alabama, had been staying in a Motel 6 in recent weeks. Police said he was "estranged" from his family, but his motive for the killings remains to be seen.
Investigators discovered wigs, glasses, and disguises in Houser's room and his vehicle had a switched license plate on it, indicating that he thought he might flee the scene of the crime after all.
The Victims
Ages of those injured in the massacre ranged from teens to seniors, authorities said, noting that at least one person was hospitalized in critical condition following the incident. More than 100 moviegoers were on hand for the evening showing of the film.
Article continues below advertisement
Watch the Video on RadarOnline.com
Stars React
Schumer, star of the sex comedy, tweeted in response to the incident: "My heart is broken and all my thoughts and prayers are with everyone in Louisiana." Louisiana native Sadie Robertson, of Duck Dynasty fame, wrote that she was "praying for everyone in Lafayette," and that it was "so sad to hear about another shooting, especially so close to home." Piers Morgan took a political slant on the tragedy, writing: "Another mass shooting in America. Another chance for America to do absolutely nothing to stop more mass shootings."
Politicians Respond
Homeland Security adviser Lisa Monaco told President Barack Obama, heading on a tour of Africa via Air Force One, about the incident. The commander-in-chief sent his condolences and prayers to the victims and their families, and was being updated in the developments as news broke. Louisiana Gov. Bobby Jindal, dubbing Thursday "an awful night for Louisiana," said the focus should be on the victims moving forward. "What we can do now is we can pray -- we can hug these families -- we can shower them with love, thoughts and prayers."
Grisly Anniversary
The shooting spree came three years and three days after James Holmes' infamous July 20, 2012 rampage during a showing of The Dark Knight Rises in Aurora, Colo. that left 12 dead and 70 hurt. Holmes last week was convicted of 165 counts of murder, attempted murder, among other charges, with a jury swiftly rejecting the notion that Holmes was insane at the time of the deadly rampage.