Subway's Jared Fogle 'Good Friends' With Accused Child Porn Producer –– Find Out Shocking Details In Case Of Accused Pervert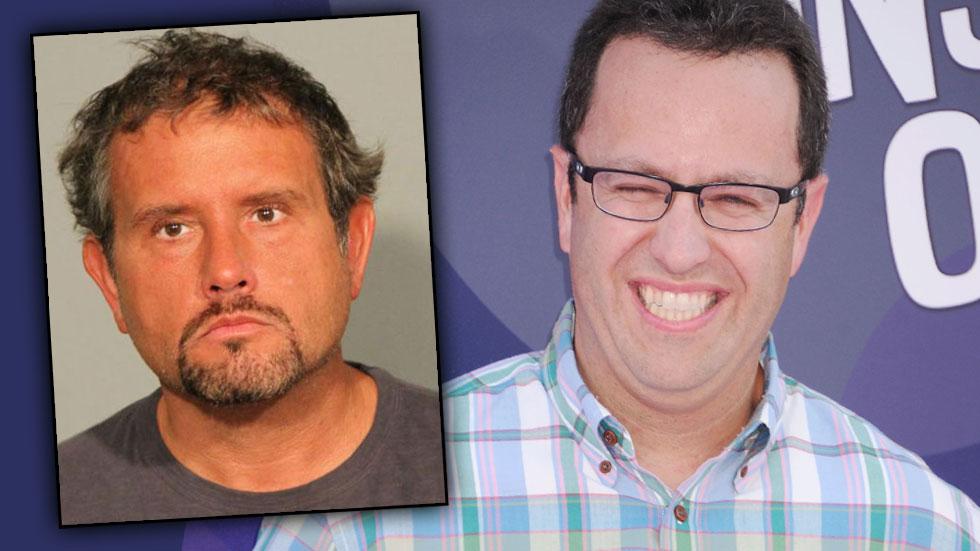 Jared Fogle and his former charity head Russell Taylor -- who stands accused of producing and possessing child porn -- are longtime friends, according to a new report.
The Subway spokesman, 37, personally selected the 43-year-old Taylor to lead his organization, The Jared Foundation, insiders told The Daily Beast.
"They were good friends before he started working for him," an insider told the outlet. "Jared basically created a position for him to help raise funds and do the administrative stuff Jared couldn't do, as he had experience with nonprofits."
Article continues below advertisement
Fogle immediately distanced himself from Taylor following his May arrest, saying in a statement, "I was shocked to learn of the allegations against Mr. Taylor and effective immediately, the Jared Foundation is severing all ties with Mr. Taylor."
A Taylor friend, however, told WISH-TV that Fogle quietly aided the accused kiddie porn producer, even helping bail him out of jail.
A man who coached Taylor's children in a youth football league confirmed Taylor and Fogle "were best friends" and had "worked together somewhere in Indianapolis," noting that Fogle occasionally accompanied Taylor to the games and gave pep talks to the team.
"He gave the kids a rah-rah speech," the coach said. He "gave them a motivational speech, pumped them all up, got them going."
A separate source told the outlet that "it's very shocking" to see the "extremely charismatic and friendly" Taylor at the end of such outrageous charges.
"If it's true, he deserves whatever he gets," the source said. "But we're going to wait and see what plays out."
As RadarOnline.com previously reported, the 43-year-old Taylor was arrested and charged with seven counts of child porn production and a count of possession of child pornography two months ago. A federal complaint indicates that 500 "videos of child pornography and child erotica" were recovered were recovered, some showing naked kids in a bathtub. The recordings were taken at Taylor's current and former houses. Taylor told authorities that he used clock radios with hidden cameras to spy on the children. Four kids, ranging in age from 9 to 16, were secretly recorded by Taylor, according to federal authorities.
Watch the video on RadarOnline.com
A whistleblower told federal authorities that Taylor had tried to entice her with porn of "young girls;" the witness (who oversaw horse stables) said Taylor had also expressed interest in bestiality, and had once asked if he and a woman could visit the stable with to engage in sexual activity with the horses.
Fogle, whose home was searched Tuesday, shot to fame in Subway ads in 2000, after he lost 245 pounds as a student at Bloomington's Indiana University on a diet primarily consisting of sandwiches from the restaurant. Subway, taking a wait-and-see approach on the damaging scandal, has scrubbed all references to the famous weight loss pitchman. The sandwich corporation, based out of Milford, Connecticut, announced they had "mutually agreed to suspend their relationship" with Fogle "due to the current investigation," and that both sides agreed "that this was the appropriate step to take."