Hillary Exposed! Clinton Foundation Tax Records Raise Questions About Spending — $8M In Travel Costs Alone!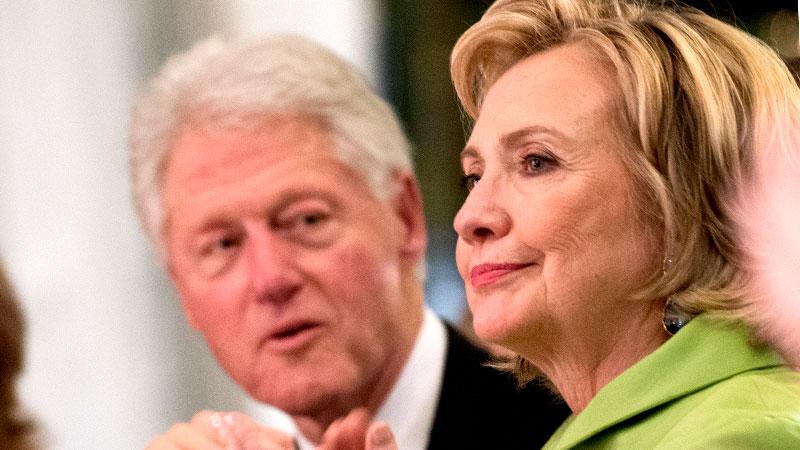 As Hillary Clinton ramps up her race to the White House, she is facing a growing wave of criticism behind the scenes about whether her charity, the Clinton Foundation, is properly using donations. Tax records obtained by RadarOnline.com reveal, for example, that the organization spent nearly as much on travel expenses as on grants!
The Bill, Hillary and Chelsea Clinton Foundation, generated $144,382,361 in revenue in 2013, according to IRS tax returns reviewed by RadarOnline.com, but only paid out $8,865,052 million, roughly 5% of their revenue, in grants.
Article continues below advertisement
At the same time, travel expenses totaled $8,448,502 million, with supplemental information stating "The Board recognizes that, due to extraordinary security and other requirements, William J. Clinton, Hillary Rodham Clinton, and Chelsea Clinton may require the need to travel by charter or in first class, the determination of which will be made on a case-by-case basis."
Salaries of executives also increased from $18,438,574 total in 2012 to $29,914,108 total in 2013. With just 402 employees, that means the average salary is $74,413, well above the national average of $50,500. Specifically, then-Director of Marketing Frederic Poust brought in a whopping $464,229 in salary for 2013, with the CFO, CEO, Executive Director and other senior staff making well into the six figures.
In addition, the foundation bled cash for its swanky fundraising events. One London gala only generated $364,151 in gross income, on $15,197,538 in gross receipts. Net income from the fundraising events was in the red for $859,030.
And conferences sponsored by the foundation cost $9,224,775. Three conference production companies were paid $2 million in services, $626,059 to a web design company, and $448,750 to the Community Counseling Service Company for endowment plan development.
Article continues below advertisement
A spokesperson for the foundation told RadarOnline.com, "The Clinton Foundation is an operating foundation. The money raised by the Foundation is spent directly on our programs, and not as grants to other charitable organizations."
"The majority of the Clinton Foundation's charitable work is performed and implemented by our staff and partners on the ground. We operate programs around the world that have a significant impact in a wide range of issue areas, including economic development, climate change, health and wellness, and participation of girls and women."
And while the foundation's program expenses are in line with industry standards, the foundation continues to be slammed with outside criticism.
This spring, the foundation was placed on Charity Navigator's Watch List. "The organization doesn't meet our criteria," the site noted. While the post explained that it was not necessarily a condemnation of their practices, they cited concerns about potential conflict of interest, inflated salaries, and the possibility of a pending audit.
Article continues below advertisement
On a related note, earlier this year Reuters reported that the foundation had failed to include funds received from the United States government and other foreign countries on their tax returns for three years running.
"Those entries were errors, according to the foundation ," the outlet reported. "Several foreign governments continued to give tens of millions of dollars toward the foundation's work on climate change and economic development through this three-year period. Those governments were identified on the foundation's annually updated donor list, along with broad indications of how much each had cumulatively given since they began donating."
A rep for the foundation told RadarOnline.com Tuesday that no returns have been refiled yet.
Back in 2013, the New York Times, published a similarly critical report, which stated that the Foundation "had become a sprawling concern, supervised by a rotating board of old Clinton hands, vulnerable to distraction and threatened by conflicts of interest. It ran multimillion-dollar deficits for several years, despite vast amounts of money flowing in."
Indeed, during Secretary Clinton's presidential run in 2007 and 2008, the foundation incurred a $40 million deficit.
The organization changed its name from the Clinton Global Initiative to the Bill, Hillary, & Chelsea Clinton Foundation in 2013, as the former First Lady moved into New York headquarters.
After Hillary Clinton announced her 2016 presidential bid, the foundation announced it would continue to accept funding from six foreign countries that are currently working with the charity.