Longtime Employee Of Murdered Washington D.C. Family Reveals Their Last Chats Before Deaths –– Remembers Her Friend & The Family With Emotional Words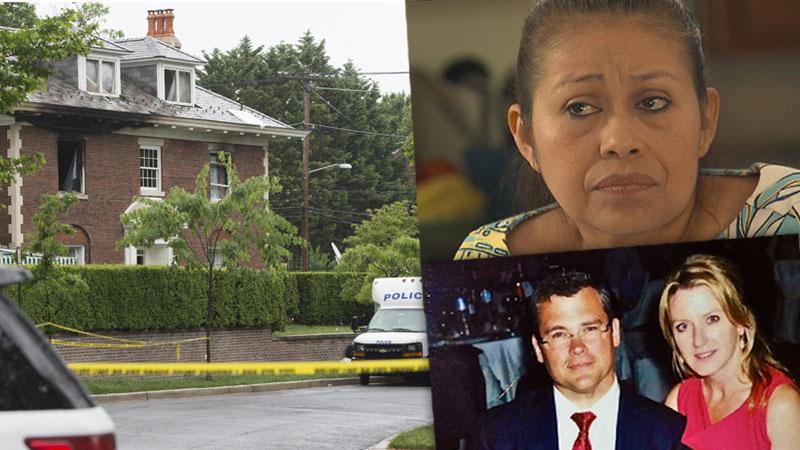 A woman who worked for the Savopoulos family for 20 years said she thinks the break-in that led to four deaths last month occurred the day before a fire revealed the carnage.
As RadarOnline.com previously reported, Daron Wint has been identified as a first-degree murder suspect in the deaths of Savvas and Amy Savopoulos, their son Philip and housekeeper Veralicia Figueroa, who were found dead May 14 in the family mansion that was later set ablaze.
Article continues below advertisement
Housekeeper Nelitza Gutierrez, who was off Wednesday, May 13, told ABC News that a suspicious voicemail that Savvas Savopoulos left her that evening clued her in that something was off.
Gutierrez said that Savopoulos told her that the family's alternate housekeeper Veralicia Figueroa was going to spend the night at their home -- an instance which never occurred previously -- and that his wife Amy was "in bed sick."
She said that while Savopoulos sounded "normal," Figueroa spending the night at the home "wasn't normal," and caused her to take action.
"When I got that message on Thursday, I was thinking, and I started calling them," Gutierrez said. "I focused on Vera, I don't know why.
"I call her and I say, 'Hi, Vera, What's going on?' No answer."
Gutierrez said her repeated attempts to contact Figueroa went to voicemail, and that she got a "strange" text message from Amy Savopoulos the next day telling her not to come to the home Thursday.
Article continues below advertisement
"I think she, you know, she was caught in the middle before the murders — because she used to leave around 3:00, so everything happened before she could go home," Gutierrez said.
Gutierrez, who usually worked for the family Tuesdays and Thursdays, told the network she helped Figueroa get the job, remembering her as a person who was "so responsible," and who "really cared about her job.
"Vera, she always was happy," Gutierrez said, remembering Savvaas as a "nice man," Amy as a mother who put her "children first," and Philip as a "very mature," and a "very happy little boy."
In related news, Savvas suffered a beating, stabbing and burning in the horrifying attack, officials citing court docs told CNN Thursday, adding that the child Philip had trauma on the back of his skull following news that a bloody baseball bat was recovered from the bedroom of the family mansion.
Watch the video on RadarOnline.com
Daron Wint was arrested May 21 while leaving a Maryland hotel, after authorities recovered his DNA off pizza crust he left in the upstairs bedroom where the bat was recovered from. Three of the four victims were stabbed before their death, officials said, noting that they did not think Wint acted alone in the horrific crime.