'Are You Dumb?': Ramona Singer Fires At Kristen Taekman For Attacking Bethenny Frankel Over Vacation Plans On 'RHONY'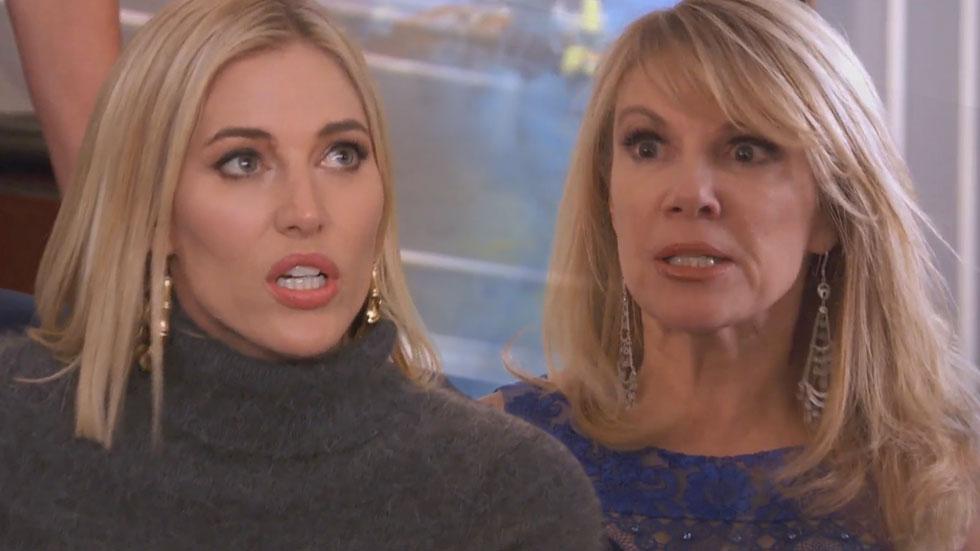 On Tuesday's Real Housewives of New York, Ramona Singer called Kristen Taekman "dumb" after she confronted Bethenny Frankel for having to leave the group's trip early.
And contrary to Taekman's tagline, pretty may not be smarter than you think!
Singer's jab comes only days after Carole Radziwill claimed that Frankel called Taekman "so dumb" for not having her nail polish brand, Pop of Color, trademarked.
Article continues below advertisement
With tensions already high between the two women, Taekman didn't hold back when she discovered that Frankel will have to leave the getaway early to attend her 5-year-old daughter Bryn's recital -- even though the women planned the trip around Frankel's schedule.
Once Frankel arrived to LuAnn de Lesseps' photo shoot for her clothing line, Taekman asked her if the vacation dates needed to be changed.
"The dates don't need to be changed," Frankel began. "If I go and don't come back, I will be away from my daughter for nine days. And then a week later I'm away from her for 12 days.
"I don't want to be away from my daughter for 21 days out of a 31-day period."
Frankel was brought to tears when she added, "I don't want to be away from my daughter at all. I promised myself I wouldn't miss anything."
Later in the episode, Singer explained to Frankel over manicures that Taekman "had a bone to pick with" her during the photo shoot.
"Before you came into the room, I was discussing with them how you need to leave early and that maybe we should change the trip to the next week," Singer explained. "As soon as she saw you, boom."
Article continues below advertisement
The I Suck At Relationships So You Don't Have To author responded, "I don't know if she's bright or not bright … I watched her waiting to kind of pounce -- she's coming after me and it's going to be fun."
Although Frankel didn't attend de Lesseps' pre-party for the launch of her collection, she was certainly not forgotten!
Once Singer walked into the room, she fired at Taekman for attacking Frankel at de Lesseps' shoot.
"I don't think it was very nice with Bethenny, with everything that she's going through," Singer said. "We want to have a discussion with her about the trip, but you came out with a shotgun with it, you kind of like attacked her."
Although Taekman explained that she wanted to talk about the trip before having to get her hair and makeup done for the shoot, Singer continued to accuse her of putting Frankel "on the defense."
Article continues below advertisement
"I feel a little protective of her because I'm in a bad place too and I don't think you're being sensitive towards her," Singer said of her divorce from Mario Singer and of Frankel's from Jason Hoppy.
Taekman shot back, "I don't know that you're in a bad place; you're not talking to me about any of it and neither is Bethenny."
"It doesn't take a rocket scientist to figure out she's going through a nasty divorce and I'm going through something," Singer yelled. "I mean, are you that dumb?"
Before Taekman left the room, she responded, "I'm going to walk away and I'm going to walk away holding my glass" -- a dig from when Singer split Taekman's lip by throwing a wine glass at her last season.
Watch the video on RadarOnline
Also on the episode, Sonja Morgan revealed that she's about to pay off the $7 million judgment against her from when she was sued as a movie producer.
But Morgan celebrated the good news by partying too hard, as Singer explained that she was "putting her mouth on everybody" during a night out with the girls!
Article continues below advertisement
De Lesseps said of Morgan's excessive drinking, "We all know that she's having problems and the drinking is her way of dealing, but when we're not with her I'm afraid of what's going on and I'm really starting to get worried about her."
When de Lesseps suggested an intervention, Frankel and Singer shut the idea down because Morgan is "too fragile."
"She has to help herself," Singer explained. "We can't help her."
The Real Housewives of New York airs Tuesdays at 9/8c on Bravo.