Kyle Chrisley Blasts 'Chrisley Knows Best' Fakery: 'The Entire Show Is Scripted!'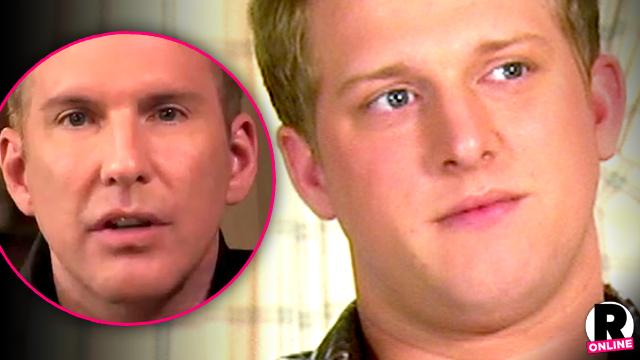 The family feud continues for Chrisley Knows Best stars Todd Chrisley and his estranged son Kyle. Now that the younger Chrisley has been cut from the show, he's speaking out exclusively to RadarOnline.com about what he really thinks of his family's TV game -- and it isn't pretty!
It all started when dad Todd cut him from the show.
"Kyle is no longer a part of the show and will not appear on this upcoming season. What Kyle does is not consistent with the family is doing right now. Until Kyle decides that he wants to do the things that we feel are appropriate, then he has to go down that road on his own," the devoted husband to his wife of 18 years, Julie, and father to Lindsie, 25, Chase, 18, Savannah, 17, Grayson, 8, told RadarOnline.com.
Article continues below advertisement
However, there are two sides to every story and for the first time in almost a year, Kyle spoke out to RadarOnline.com to reveal his reason for leaving the show.
"I was not cut from the show. I was not fired from the show. I quit the show last season when I told Todd that I wanted nothing to do with a fake family that continues to lie to everyone," he said.
"That whole entire show is fake and scripted, not by the network, but by Todd himself," Kyle claims, adding, "My dad thinks that he is the next Steven Spielberg."
MORE ON:
Chrisley Knows Best
As RadarOnline.com reported, in Oct. 2014, after Kyle accused Todd of stealing his daughter, Chloe, Todd went public to blame his son's diagnosis as being "bipolar" and also his past-history of drug abuse as the reason that the two have not reconciled.
Kyle, who is celebrating two years of sobriety this August, tells RadarOnline.com, "That is absurd!"
"I choose not to speak to anyone in my family at this time and I have all the love I need in the world with my mother who I love very much and my wife Alexus, who my family still will not accept because of her ethnicity," he said.
"I wish them all well and there are absolutely no hard feelings, but I have already moved on with my life and I will not allow my father to spread things about me that are untrue."
"My life is amazing today and part of that is not associating with what my family has, unfortunately, become."
Do you think that Todd Chrisley and Kylie Chrisley should reconcile for the sake of the family? Tell us your thoughts in the comments below.