It's Getting Ugly! Iggy Azalea's Ex Wants To Subpoena J.Lo & More In Lawsuit –– Read The Bombshell Court Documents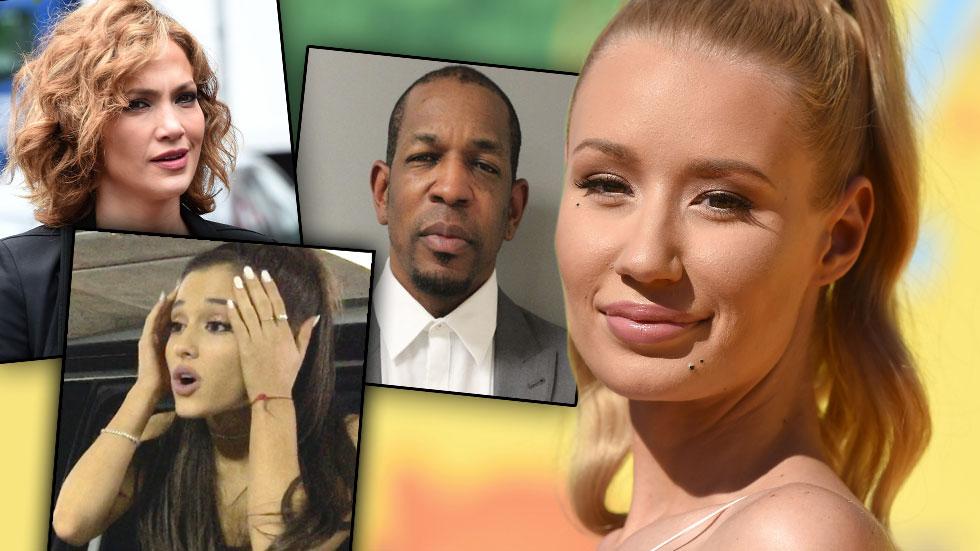 Iggy Azalea's ex-boyfriend's threatening to drag her Hollywood friends Ariana Grande, Jennifer Lopez and Katy Perry into their legal battle, RadarOnline.com has learned.
The busty rapper, whose real name is Amethyst Kelly, is in a legal battle with Hefe Wine, a.k.a. Maurice Williams, claiming he stole the contents of her hard drive while they were dating.
In court documents obtained by RadarOnline.com, he has submitted a list of stars that he plans to subpoena on his behalf in the ongoing dispute. Hefe Wine's attorneys state these recognizable names are "likely to have discoverable information" that he plans to use in his defense.
Article continues below advertisement
Ariana Grande is listed for her "participation and rights to the song 'Problem,'" according to the documents. Hefe Wine also wants to subpoena Jennifer Lopez "relating to participation and rights to the song 'Acting Like That,'" and Katy Perry for her writing credit on Azalea's song "Black Widow."
Charlie XCX is on his list for "relating to participation and rights to the song Fancy," which has become one of the Australia's most popular songs.
And it seems like Hefe Wine is taking a personal dig at his former flame, who is engaged to basketball player Nick Young: He also wants to subpoena T.I., whom he listed as a "former companion of" Azalea's.
When Azalea shot to fame in 2011 with the song "PU$$Y," Williams began releasing songs as "Hefe Wine featuring Iggy Azalea," she said. Her reps quickly got them taken off iTunes, but he wasn't done, she said in court docs.
After her song "Fancy" became a big hit in the summer of 2014, he announced a deal with Primco Management to release more Azalea music, leading to the current suit.
What do you think about his latest legal maneuver? Sound off in comments below.