Exclusive
Iggy Azalea Claims 'Scoundrel' Ex Made Her Life A Living Hell Of 'Terrible Abuse' — Court Docs Reveal Her Shocking Claims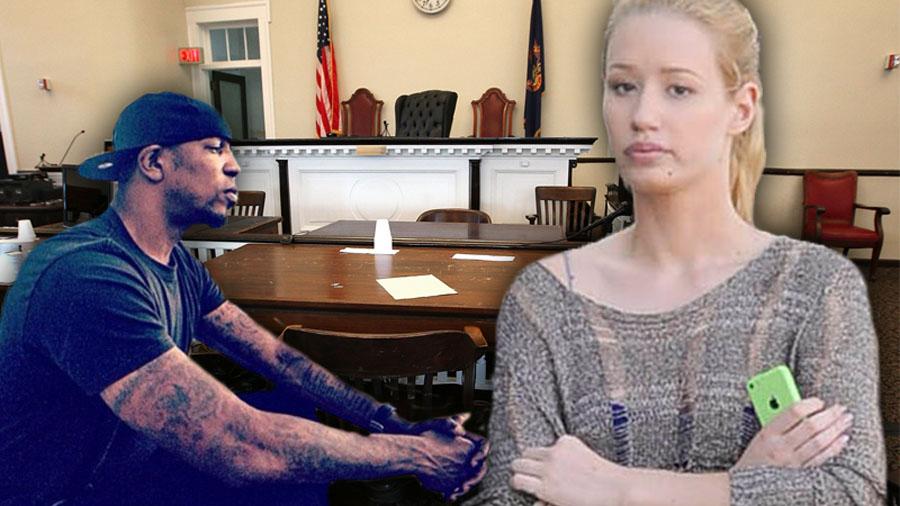 Iggy Azalea still has one major problem: her ex, Hefe Wine, aka Maurice Williams. After he reportedly shopped around a sex tape of the "Fancy" singer, she sued him in September for allegedly stealing the contents of her hard drive while they were dating. Now, she's begging a judge to prevent him from leaking the contents, claiming that the release of the material would case "irreparable harm."
Williams' "efforts to exploit the material he stole from me also are an extremely upsetting extension of the terrible abuse he inflicted on me when I was a teenager," Azalea says in a sworn statement filed in federal court and obtained by Radar.
Article continues below advertisement
"I want the public to know that my work is authentic and as I intended it to be," Azalea — whose real name is Amethyst Kelly — says. "I do not want the public to be confused by defendants' efforts to pass off the inferior pastiches of a scoundrel as my work."
READ IGGY AZALEA'S SWORN STATEMENT
The stolen music are "demos and sketches" she wrote and recorded when she was 17 and 18 in 2007 and 2008, Azalea says. "I never intended those recording to be finished musical works. They were preliminary drafts, notes and studies of performance styles I was experimenting with at the time."
She was 17 in early 2008 when she arrived in Houston, Texas, from her native Australia "to pursue my dream of becoming a professional hip-hop recording artist," she says. When she met Williams a month later, she claims he told her he owned an oil company and a music company.
"I was running out of money and thought I would have to return home to Australia," Azalea says. "Williams convinced me to stay by promising to furnish a vacant property he owned for me to live in. He told me I should stay with him and sleep on his couch while he arranged to furnish my place. I naively trusted him."
Article continues below advertisement
"Almost immediately after I moved my things into his apartment Williams became aggressive and possessive and made unwelcome sexual advances," she claims. "He isolated me and told me to stop communicating with my musical collaborators. He intercepted contact information from my new acquaintances, never left me alone with other people, and followed me everywhere. When I told him I wanted to leave, he threatened to ruin my career by calling his supposed music industry contacts and telling them not to work with me."
She eventually realized that Williams "had no money and no record company" and was married with children, she says. When he was evicted from his apartment "in a rage, he urinated on the landlord's property and left a dead fish in the apartment building," she claims.
"I have since learned that Williams is a convicted felon with a criminal record dating back to 1990 that includes convictions for felony theft, attempted burglary, theft by check and criminal mischief; that he currently is free on a $50,000 bond on pending domestic assault charges; that he uses many aliases," she alleges in the documents.
Article continues below advertisement
Azalea says she fled the United States for her home in Australia, but returned to Atlanta, Georgia, to resume work on her music career in January 2009.
Music Manager Shares Industry Success Secrets!
Williams, however, found her in Atlanta, she says. He introduced her to "Kareem Chapman, who is the nephew of the successful hip-hop recording artist known as T.I.," according to her statement. "Chapman told me he would use his family connections to get me a recording agreement."
She signed a management agreement with Chapman during a trip to New York to meet with record executives, although the meetings never happened, she says.
Azalea left Williams again, this time for Miami, she says, but he soon found her. "He told me he had stolen the entire contents of my personal computer, including all my music, and uploaded it to a thumb drive," she says. "He emailed me some of the files he had stolen to prove what he had done. He threatened to find me and 'drag me back' to him." His threat "made me so fearful for my physical safety that I temporarily moved back home to Australia to get away from him."
Article continues below advertisement
Azalea says she didn't heard from him again until her music video Pu$$y went viral on YouTube in 2011. Williams reappeared claiming he had a recording agreement with her, she says. "It was an obvious forgery. Even a cursory review shows that Williams added the name of his made-up entity, 'Wine Enterprises, inc.' to the signature page" from the previous management contract," she alleges.
Williams began releasing songs as "Hefe Wine featuring Iggy Azalea," she says. Her reps quickly got them taken off iTunes, but he wasn't done, she says.
After her song "Fancy" became a big hit in the summer of 2014, he announced a deal with Primco Management to release more Azalea music. That's why she's suing now.
"Defendants' threats to released the unfinished material undermine my artistic values and threaten to harm my reputation with my fans, fellow musicians, and business partners," Azalea says. "Williams' efforts to exploit the material he stole from me also are an extremely upsetting extension of the terrible abuse he inflicted on me when I was a teenager."