Off The Wagon & Out Of Control! Rehab Alum Chet Haze Boozes In Video, Spews N-Word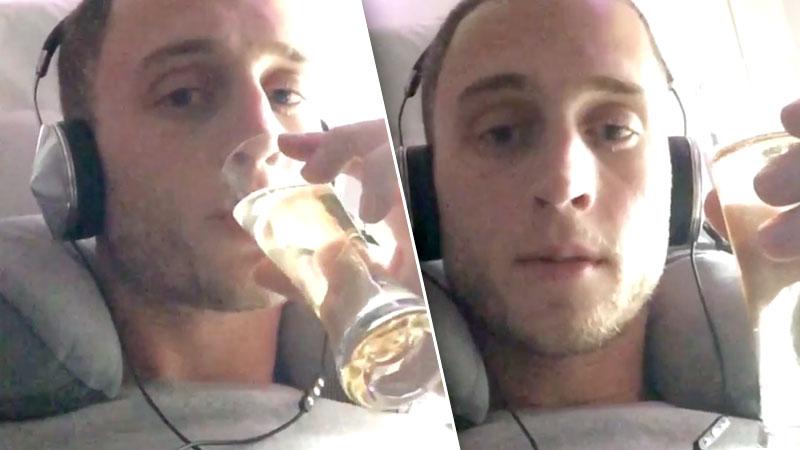 Chet Hanze, aspiring rapper and son of America's sweethearts Tom Hanks and Rita Wilson, will not be told what not to do -- even if that means breaking his sobriety and spewing the n-word to anyone who will listen!
Haze has spoken openly about his problems with drugs and alcohol. "I've been struggling with substance abuse since I was 16 years old," he said in a November post to his Instagram account. "Finally at the age of 24 I decided to get some help." Things seemed to be going well for the Hollywood kid when he said, "With 50 days of sobriety under my belt, I can honestly say I'm the happiest I've ever been... I've been blessed with the programs of AA and NA which allow me to rise above this disease."
Article continues below advertisement
Despite all of this progress,Haze got into a drunken brawl with bouncers outside an LA nightclub in March, and just yesterday, he posted a video to his Instagram account, which he later deleted, that showed him drinking alcohol on a flight from London, leaving many wondering just how badly he has fallen off the wagon.
Just hours later he again posted a bizarre video, also deleted, and caption to his Instagram account in which he stood up for his right as a white man to say the n-word. "That's something we call FREE SPEECH," he wrote.
"If I say 'f*ck yall hatin a** n*****" it's because that's really how I felt at the time," he continued.
While he acknowledged that some people, particularly those who had taken part in the black civil rights movement, may be offended by his words, he was not fazed saying, "You can hate me or love me for it, but can't nobody tell me what I can or can't say."