Vacation Gone Wrong! Sonja Morgan Trashed By Ramona Singer For Having To 'Drop In Bed With Every Guy' While Bethenny Frankel Calls Her 'Stupid'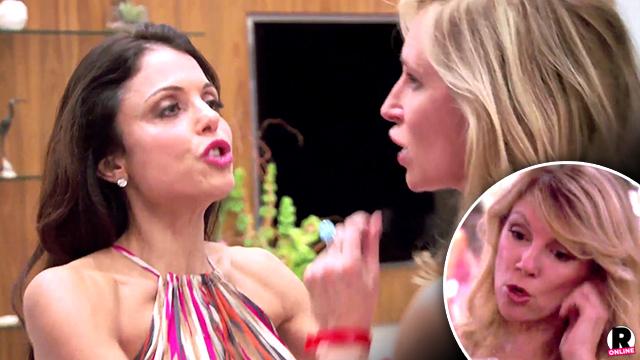 On this week's episode of Real Housewives of New York, the cast members made up just in time for their luxurious getaway to the Turks and Caicos.
But once the booze starting flowing -- and Ramona Coaster made her anticipated return -- the trip to paradise became packed with drama!
After Ramona Singer fired at Kristen Taekman for "attacking" Bethenny Frankel over vacation dates during last week's show, Taekman kicked off the episode by confronting the Skinnygirl mogul about Singer's accusations.
Article continues below advertisement
"She said that I attacked you about the dates," the model said at a launch party for LuAnn de Lesseps' collection.
Frankel responded, "You attacked me? No. But often you have that face on you like you are coming for me before you even say anything.
"I feel like you have a sourpuss face and you're waiting to say something."
Taekman explained that her "sourpuss" face started when Frankel called her "dumb" for not having her nail polish line Pop of Color trademarked.
"I don't remember saying you're dumb," Frankel explained. "I probably said like, 'There is a company called Pop Beauty so you're saying you want to do Pop of Color and I don't think that's a smart name.'"
Taekman ended the feud with, "I didn't mean for it to be aggressive."
Before the ladies could even put their bags down when they arrived to the Turks and Caicos, Singer and Morgan raced around the house to claim their room. After the rooms were all taken, Morgan complained that her bathroom did not have a bathtub.
Article continues below advertisement
Frankel sneered, "God punished you guys for being spoiled and coming in here like you own the place."
"Everybody knows this," Singer said of sharing a room with Morgan, as Frankel fired back, "Everyone knows what? That you are the lord of the manor?"
Although Singer apologized to Frankel for her behavior, she was back to starting drama when she picked a fight with Morgan.
When Morgan expressed her concern that the newly single Singer "might be a little bit lonely," Singer jabbed, "I'm not lonely. Just because you have to drop in bed with every guy you meet doesn't mean I need to."
Morgan defended herself by responding, "I flirt with every guy, but I don't drop in bed with everyone."
Taekman then explained in her confessional how during a girls' night out the week before, Morgan tried to make out with another woman's boyfriend.
When Ramona said that Morgan was "slobbering over everyone," during the night out, Morgan replied, "Shut the f**k up about me. That's below the belt."
Morgan then vented to Frankel over her "judgmental" friends. Although Frankel couldn't make sense of what the reality star was saying, she attempted to help her friend with her drinking issues.
Article continues below advertisement
"You have been going through a very stressful time in your life," Frankel said of Morgan filing a Chapter 11. "You have been drinking a lot … I'm not judging you."
Watch the video on RadarOnline.com
Morgan cut her off by responding, "What I'm going through right now, I have to go out sometimes and party. It's not every night. I need my friends to understand that."
As Morgan continued to interrupt Frankel, the Skinnygirl told her, "You're acting stupid. You are not listening to me. Did I judge you? Did I say one bad thing about you?"
When Morgan said, "You're giving what they're saying credibility," Frankel shouted, "Shut the f**k up!"
She added, "You like to get f**ked up and escape, just be honest about it. I'm not here to attack you … nobody is against you. I just want you to feel good."
Although the duo ended the conversation with a hug, Morgan said in her confessional, "Inside I'm annoyed that Bethenny is preaching at me, but then I reel it in and say, 'This is something she's venting on me.' Maybe she's fed up with all our friends around us always constantly complaining about me and she's starting to believe it."
The Real Housewives of New York airs Tuesdays at 9/8c on Bravo.