She Will 'Grow Up To Hate You For This!' Tila Tequila Rips Baby Daddy In Shocking Rant After Their Infant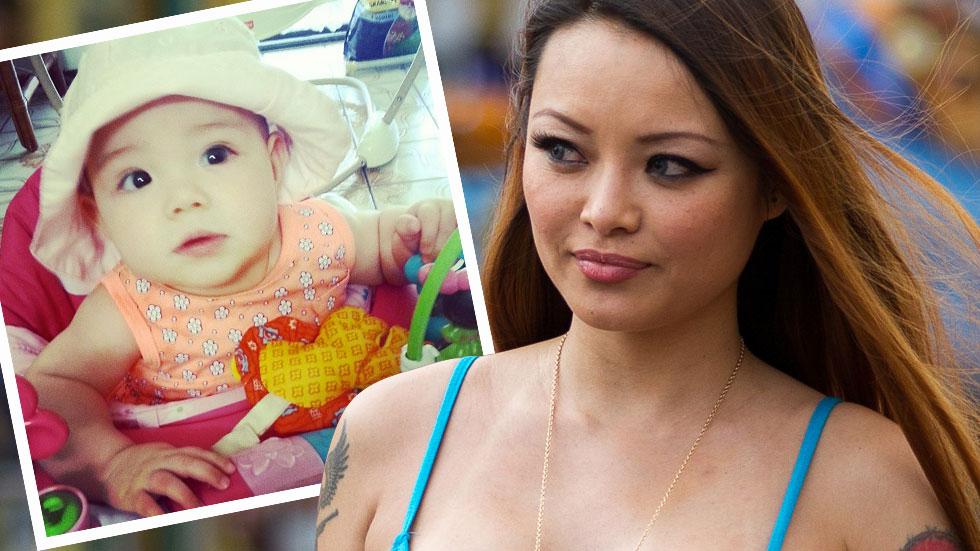 Tila Tequila's had a tough week, after her she had to take her infant daughter Isabella to the E.R., then ranted back-and-forth at her baby daddy following the incident.
Tequila on Tuesday, in a since-unpublished Facebook post (reported on GhostRiderRadio.com), told her fans that the 5-month-old "rolled off the bed and hit her head" on a concrete floor "from at least 3 feet high," which forced the trip to the hospital.
Article continues below advertisement
An understandably-frustrated Tequila wrote, "I f***ing hate life right now," adding that "there's no such thing as a unless that mother just doesn't give a damn about her babies.
"Just one of the annoying parts of having infants and toddlers cause all they do is hurt themselves all day long! Lord help me!"
Another thing that presumably annoyed the on-edge Tequila was an angry email from the baby's father Thomas Whitaker, who the website reported wrote her a scathing email ripped her for poor-decision making; a preoccupation with men and online attention; promiscuity; and a lack of attention and morality.
He wrote, according to the site: "She should have been in a crib or a playpen, not on a bed unattended so she could get hurt," advising the former MTV personality to "get your head out of your rear end and stop this mess."
Needless to say, Tequila EXPLODED at Whitaker, claiming that he doesn't visit the child or provide support for the tot, warning him, "I suggest you shut your f***ing pie-hole since you're not even around, ever, nor support my daughter financially AT ALL! "
Article continues below advertisement
She said that his true anger at her is not about their child, but about her decision to date other people.
"What have you ever done in your life besides talk sh*t about me, the mother of your child who you have totally abandoned, never once try to help with child support, but just sit in your pathetic little corner hiding like a coward talking sh*t????" she wrote. "Yeah you only wrote me to talk sh*t because I have moved on with my life and found love elsewhere, and you're p*ssed!"
After writing that Whitaker is not listed on the child's birth certificate, Tequila told Whitaker to "stay the f*** out of our lives if you're only here to stir up drama, and bring about negativity."
The social media-savvy beauty continued pounding on her baby daddy, using hashtags like: "#F**OffC**t," "#DramaQueen," and "#GrowSomeB*lls."
She wrapped up the searing rant predicting that the infant will "grow up to hate you for this."
"Peace out loser!" she wrote. "I don't often make such personal matters public, as all of you who know me can tell … but this was just crossing the line, and I've had enough of the disrespect!"