Exclusive
Tila Tequila Bullies Baby Daddy's Daughter, Threatens To 'Knock Her Teeth Out' & 'Punch Her In The F**king Stomach' — Read The Cruel Message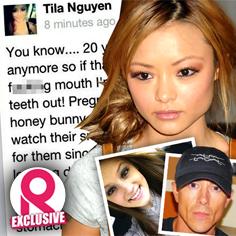 Tila Tequila isn't just at war with her baby daddy, the pregnant reality TV star is also lashing out at his 20-year-old daughter and RadarOnline.com has exclusively obtained the screen grab.
The message was allegedly posted on the 32-year-old's Facebook page last week and then Thomas Paxton Whitaker's daughter, Brianna, took a screen grab and posted it on her Instagram account — calling Tila out.
"You know…. 20 years old is not a little girl anymore so if that b*tch doesn't watch her f**king mouth I'm not afraid to knock her teeth out! Pregnancy hormones ain't no joke honey bunny," Tila wrote.
Article continues below advertisement
"These little tricks need to watch their smart mouth or else I will do it for them since they're running around learning dumb sh*t from watching their parents, and my baby is NOT your half brother or sister! I'll punch you in the f**king stomach hoe!"
Brianna, Whitaker's daughter from a previous relationship, posted the screen shot on her Instagram page on Tuesday with the caption:
"This is what she has to say bout me….!"
See Tila's full message below: As Radar exclusively reported last month, this isn't the first time Tila has allegedly written something vile about her baby daddy's children.
In a text message obtained by Radar, the first-time mother-to-be goes on a racist rant spewing out the n-word.
"Your daughter Briana is dating a n***er…why is this so prevalent in your family?" Tila wrote.
"I worry for Shem baby to be around that ruckus. Need to break the cycle."
When Radar reached the former Shot At Love star for comment on the racist messages, she claimed her cell phone had been hacked.
"Tila wants to ruin my reputation so I'll never have a chance at establishing a relationship with our child, and so that I can never surpass her accomplishments in life," Whitaker told Radar.
"This heifer offered to buy me off to give up my paternal rights … There's not enough gold and precious stones on the earth to make me abandon one of my children or go against my convictions."