Melissa Rivers Speaks Out On Mother Joan's 'Preventable' Death & 'Fashion Police' Fallout -- Watch The Video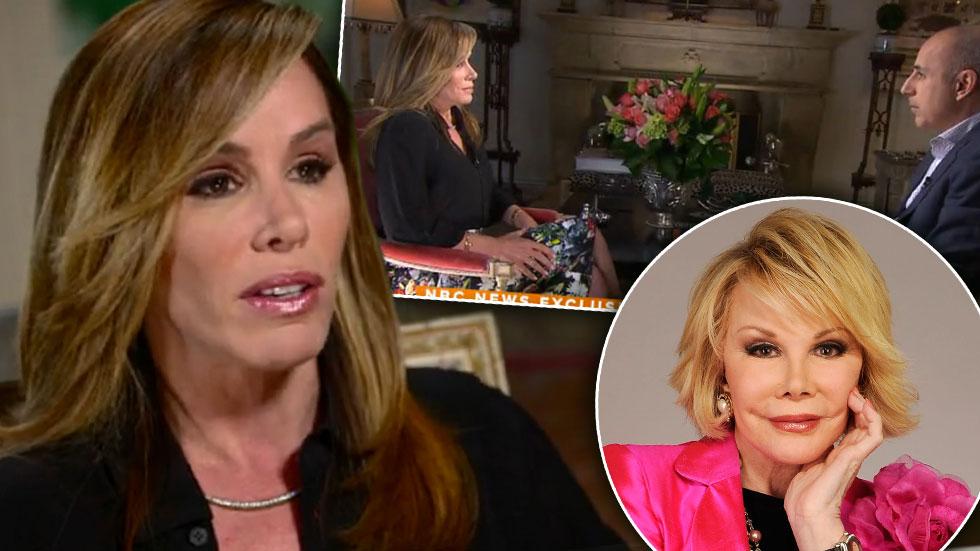 Melissa Rivers sat down in an exclusive interview with the Today Show, her first TV appearance since the death of her mother, Joan Rivers, ​which she believes was "100 percent preventable."
The 47-year-old opened up to Matt Lauer about the final chat they had the night before Joan's minor throat procedure that went horribly awry after she suddenly stopped breathing.
It was "a very normal conversation," Melissa admitted. "All she said was, 'Ugh, I hate having to do this. Getting older sucks.'"
Article continues below advertisement
The next morning, Melissa received the devastating news that her mother was in critical condition and flew out to New York as soon as possible.
Melissa has since filed a lawsuit against Yorkville Endoscooy over the tragic ordeal.
In a passage from her new memoir The Book of Joan, Melissa recalls the final hours she spent with the great comedienne.
"I slept on the cot next to my mother's bed that night with some of the lights still on and the TV blasting, just the way she liked it," she said. "In the morning, when it was time to remove the ventilator, she was surrounded by those who loved her most and whom she loved most. I lay in the bed and held her for a while. And after a few hours, she was finally gone. I didn't have to tell her I loved her. She knew. She didn't have to tell me she loved me. I knew."
Watch the Video on RadarOnline:
Melissa also weighed in on the recent controversy surrounding Joan's latest TV hit on E!, Fashion Police, which went on hiatus when show hosts Kelly Osbourne and replacement host Kathy Griffin suddenly quit.
"The only way I can really get my head around it is the matriarch of the family died," Melissa explained. "And the family fell apart. And the sisters started fighting. And everybody mourns and grieves differently. And then someone tried to marry into the family. And we know how that went. That's the only way I can sort of explain what happened."
Melissa explained that Joan's love of celebrity and fashion brought life to the show that no other personality could emulate.
"In the second incarnation, I don't think we ever achieved that warmth, that excitement, that love that came through the screen."