Kim Kardashian Praises Bruce Jenner In MUST-SEE 'KUWTK' Preview –– 'Your Feet Are Actually Way More Feminine Than I Ever Would Have Imagined!'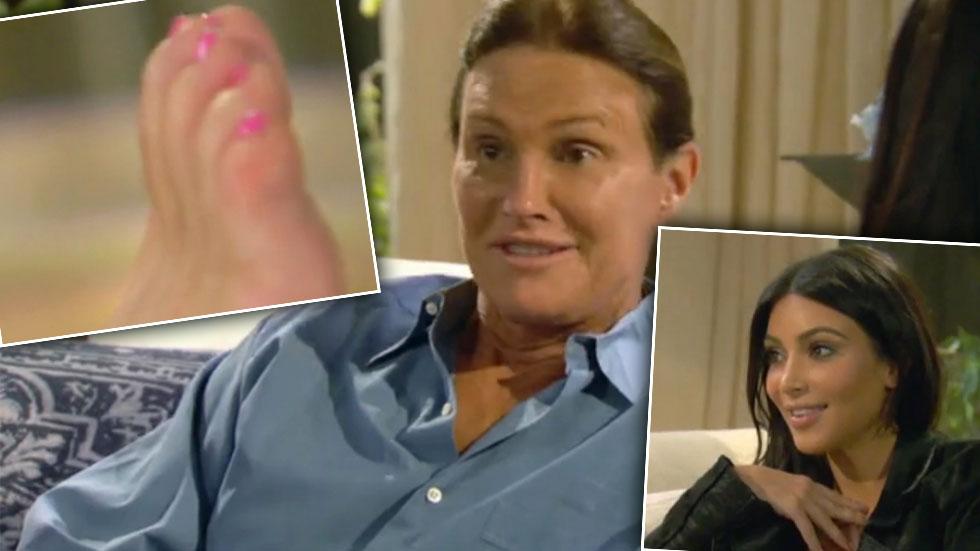 Kim Kardashian and Bruce Jenner chat about secrets, feet and femininity in a new clip, showing how comfortable the Olympian is confiding in his stepdaughter.
In another Keeping Up with the Kardashians preview the TODAY show broadcast Tuesday, Kim -- who Bruce has championed as the most supportive family member in regards to his transition -- chatted with her candid stepfather, who confided in his her about the things he never talks about with others.
Article continues below advertisement
"I've had secrets all my life ... it's tough not to have secrets," Bruce told the 34-year-old reality superstar, revealing to her that he paints his nails -- removing his shoe and showing off his toenails, which he had painted pink.
Watch the video on RadarOnline.com
An "impressed" Kim complimented Bruce that his feet were "actually way more feminine than she ever would have imagined."
"You do that yourself?" she asked Bruce, who in turn boasted that he's "very good in the makeup department"
"I'm really happy for him that he is living his life the way he wants to live it," she told Matt Lauer. "And that he has found inner peace and just pure happiness. That's what life is about."
The special two-part edition of Keeping Up with the Kardashians will air May 17 and 18 on E! at 9/8c.