Kim Kardashian Speaks Out On 'Today' After Bruce's Big Announcement: 'I Support Him 100 Percent'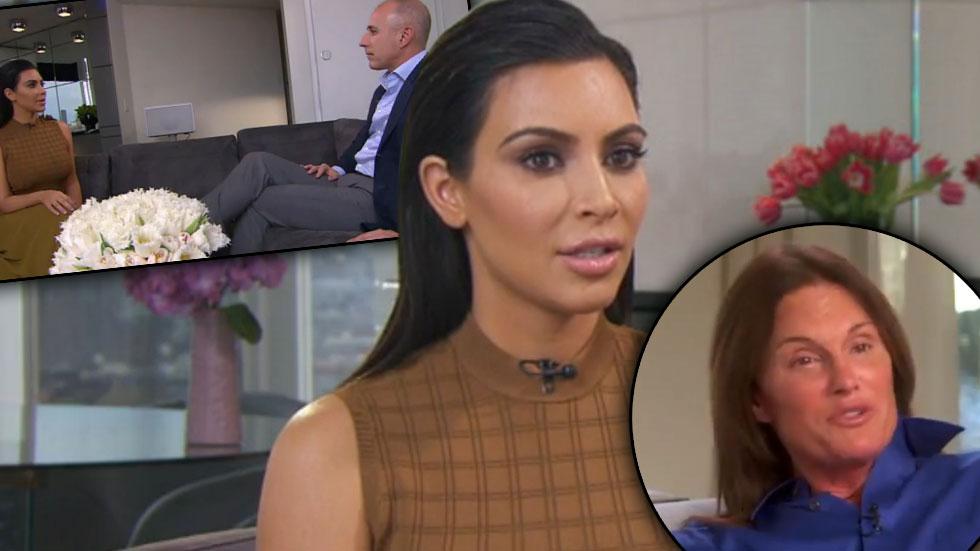 Kim Kardashian speaks out for the first time since stepfather Bruce announced that he is transitioning to a woman.
"I'm really happy for him that he is living his life the way he wants to live it," she told TODAY's Matt Lauer on Monday. "And that he has found inner peace and just pure happiness. That's what life is about."
In a surprising moment during Bruce's exclusive interview with Diane Sawyer, the former Olympian admitted that Kim has been the most supportive family member on his decision to change gender.
Article continues below advertisement
But the rest of the family has proven to be supportive as well. Kim revealed that they've been participating in regular family therapy to work through their emotions and develop a strong support system.
Though many have speculated that ex-wife Kris has been less than supportive of her once partner, Kim shot down the rumors to Lauer point blank.
"I love having so many siblings and such a supportive mom because, you know, each family member might be dealing with this in a different way," she explained. "But we have each other to go through this experience with. And I'm really grateful for that."
Watch the Video on RadarOnline:
As for pregnancy plans, the mother-of-one admits it's been difficult this time around.
"They say if you've been trying for a year, then you usually need a little bit of help," she told Lauer. "I had a tough delivery, so I understand what my challenges are. I mean, I'm seeing the best doctors and I'm trying to do everything I can to make that happen."
Despite hard road ahead, the reality star is nowhere near giving up – or using a surrogate to conceive one more child with hubby Kanye West.
Watch the Video on RadarOnline:
"They have recommended to me to get a surrogate, and I would like to hold out a little bit longer, and still try," she said. "I still have hope, so I'm just going to keep on trying. Never say never. I mean, we haven't talked about adopting..."
Could she adopt a sibling for little North? What will they start calling grandparent Bruce? Sound off in the comments below!