More Harm Than Good! Publicity-Hungry Kelly Rutherford Violates Judge's Order In Child Custody Case –– By Hanging With Kris Jenner!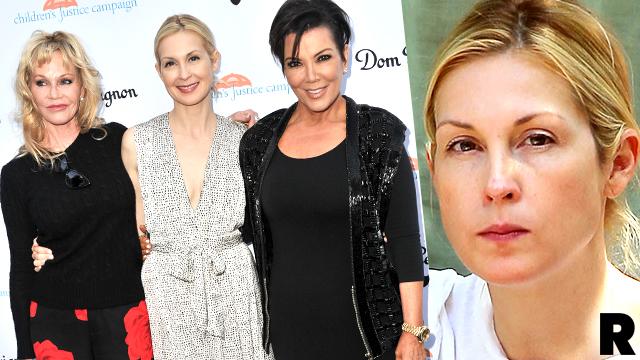 Kelly Rutherford has turned to her famous friends to try and regain custody of her two children, Helena, 5, and Hermes, 8. However, it seems that her latest efforts are actually going to hurt her chances of bringing the youngsters back to America from France, where they currently reside with her estranged ex-husband, Daniel Giersch. A lawyer for Giersch tells RadarOnline.com exclusively that her new campaign is a violation of her custody terms!
Article continues below advertisement
After losing the battle in the courts, the 46-year-old former Gossip Girls actress and her friends started a petition on We The People in a bid to help her regain custody of her children.
But a lawyer for Giersch, Fahi Takesh Hallin, tells Radar, "We certainly do not have any specific comment to these media personalities supporting Kelly's 'petition,' which petition violates the Order in the parties' divorce Judgment that Kelly and Daniel are prohibited from exposing the children to the media."
"This includes publishing and publicizing their photographs and names in the media, as Kelly is doing. As to Kelly's statements to the media about the custody matter, much if not all of it is fabricated, which fabrications serve only one person, and not the children. Daniel will continue to protect the children's privacy, in their best interest," the attorney adds.
Meanwhile, according to a source close to the actress, Rutherford has gone above and beyond in her efforts to bring her children home, as the petition online has gotten more than the 100,000 signatures necessary to bring it in front of President Barack Obama and The White House.
Article continues below advertisement
"Kelly has been reaching out to everyone that she knows in a bid to regain custody of those kids," says the source.
In fact, on May 12, Keeping up with the Kardashians star Kris Jenner, along with BFF Melanie Griffith, were on hand in Beverly Hills, Calif., for an event to benefit Rutherford's new organization, The Children's Justice Campaign.
The following day, Jenner's fame-hungry daughter, Kim Kardashian, 36, took to her social media to share her support for Rutherford, who the source says "she has never met."
The well-connected insider tells Radar, "Kelly knew that she has the power of social media behind her and I am sure she implored Kris Jenner's Kardashian power to get the signatures necessary for the White House review."
"Kris then had Kim post something about it and Kim has never even met her," the source adds. "But Kris will do just about anything to make herself appear like the mother of the year and this was just another attempt at making something that is not about her, about her."
Rutherford and Giersch have been involved in the costly custody battle since their four-year marriage ended in 2010, with a judge in California sending the children to live with Giersch in France two years later, when he was no longer able to work in America.
Do you think that Kelly Rutherford's children should be brought back to the U.S. to live with their mom? Tell us your thoughts in the comments below.