Fashion Forward! Model Brittny Gastineau Debuts Clothing Collection On HSN Tonight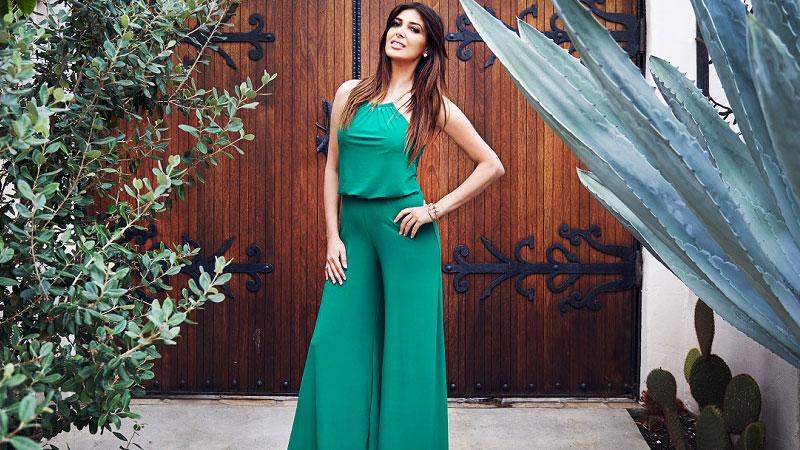 Brittny Gastineau has already conquered the world of reality TV, modeling, jewelry design – and now affordable fashion.
That's right, the 32-year-old, whose roots started in couture, is opening up her wardrobe to fashionistas on a budget by teaming up with HSN.
The Brittny Geatineau for Tiana B. collection debuts tonight at 9pmEST/6pmPST on the Home Shopping Network and includes closet covetable pieces including caftans, shrugs, jumpsuits and sexy dresses all for less than $100!
Article continues below advertisement
Kim Kardashian's super stylish BFF sat down with RadarOnline.com to talk about her new venture.
Radar: How did you get into the fashion industry?
Brittny Gastineau: I signed with the FORD Modeling agency in NYC when I was 3 years old so I have been exposed to fashion my entire life. My mother was also a model in her youth and parlayed that hands on education in fashion into a successful business. She owned a high end fashion boutique that carried select pieces from incredible designers from all over the world such as Gaultier, Versace and Valentino. I am grateful to have grown up surrounded by high fashion and have been fortunate enough to befriend some of the most creative and talented designers in the world.
RO: You've had other achievements showing off your fashion know-how.
BG: I styled the clothing for my international television series and began writing about fashion for my blog, Eye on Glam. I also appear frequently on national entertainment shows as a fashion and beauty correspondent.
RO: Why did you decide to partner with HSN for this collection?
BG: I have been an HSN shopper for a long time and also launched a jewelry collection with my mom there. In addition to being part of the HSN family, I have always appreciated the impeccable quality of the products offered here.
Article continues below advertisement
Friends that follow me on social media and read my blog are always asking me for advice on how to look chic on a budget. The truth is that you don't have to spend a fortune to look fabulous and I was on a mission to design an affordable and fashionable line.
I identify with the HSN shopper, we appreciate the finer things in life but don't want to spend a fortune to posses them. HSN women are fearless, fashionable, smart and fabulous.
RO: How would you describe your line for HSN?
BG: 1. Style, 2. Quality, 3. Value, 4. Convenience, 5. Accessibility.
RO: What's your fashion philosophy:
BG: Style and fashion aren't just about the clothes you wear, it starts from within. I have learned through growing up in modeling, appearing on television and being surrounded by the most fashionable people in the world that anyone can carry themselves with style and grace, at any age, any weight, and anywhere in the world. Adding a fabulous piece of fashion to your collection is the icing on the cake, the reward that you deserve to give yourself for all of your hard work and dedication to your career, family and obligations. A great piece of fashion serves as a reminder to never forget about you because you deserve it.
Article continues below advertisement
RO: Who are three designers you're most inspired by right now?
BG: Olivier Rousteing for Balmain, Calvin Klein, and Trager Delaney.
RO: What's your go-to "Girls Night Out" outfit?
BG: I have been wearing my collection, but my go-to's have been my Multicolored Printed Caftan, jumpsuit and black and white caftan.
RO: What's the best part about having your own clothing line?
BG: Being able to express my creativity and offer affordable luxury to everyone.
Brittny Gastineau will debut her collection LIVE on HSN Thursday at 9pmEST/6pmPST.