Exclusive
'Teen Mom' Baby Daddy From Hell! Adam Lind's Ex Jessica Nicole Files For Restraining Order – He 'Choked' Me & Threatened To 'Crush My Skull'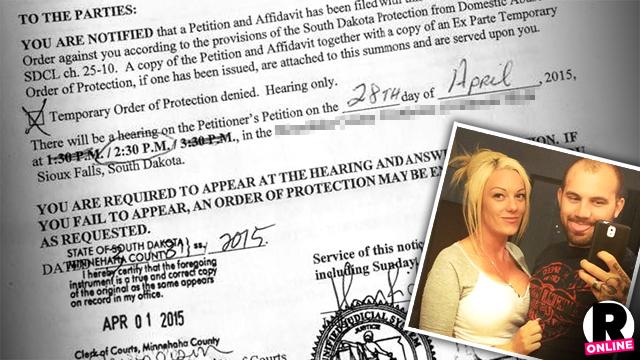 Last week in court, Radaronline.com exclusively reported that a judge told Teen Mom 2 bad boy Adam Lind he could possibly get unsupervised visitation with his 5-year-old daughter Aubree if he stayed out of legal trouble for six months.
But later that day, the 24-year-old was arrested on a warrant for failing to appear in court for his child support case with aspiring model Taylor Halbur, 25, the mother of his daughter Paislee, 18 months.
Article continues below advertisement
And now, just a week later, he's in hot water once again. RadarOnline.com can exclusively reveal that the 24-year-old MTV reality star's ex girlfriend, Jessica Nicole, filed documents to obtain a restraining order against him on March 31.
READ THE SHOCKING COURT DOCUMENTS
In the papers, filed in South Dakota's Minnehaha county circuit court, Nicole alleges that Lind not only physically abused her during their relationship last summer, but has terrorized her in recent weeks.
After attempting to leave their home in August 2014, the 33-year-old blond beauty claims Lind "kicked open the door" and starting "choking" and "hitting her," in addition to "breaking things" and "flipping over the table."
When she eventually ended the relationship, Nicole says he would call, text, and even drive by her grandmother's home in a threatening fashion.
Nicole, who slammed Lind on Instagram in October, accusing him of abusing steroids and beating her during their relationship, then says her ex went ballistic when she told him she was planning to call the police.
Article continues below advertisement
"I was told…that he would come after my family and that he would 'crush my skull," she writes in the court documents. "When I told him that would obviously kill me he said, 'Oh well, I'd already be going to prison.'"
After a period of silence, the threats resumed recently after Nicole says she filed court papers confirming Lind's steroid use regarding his current custody drama with baby mama #1, Teen Mom 2 star Chelsea Houska, 23. (Lind has vehemently denied using steroids.)
"I am now getting threats through other people from Adam who has already severely physically harmed me," she writes in the papers.
She also requests to extend the protection order to her teen son, Brock.
Though a temporary order of protection was denied from what sources tell RadarOnline.com was lack of sufficient evidence, the court ordered a hearing to be held on April 28.
Nicole is calling for emotional support to face her ex in court. Another one of Lind's former girlfriends, Brooke Beaton, 26— who filed but ultimately dropped her own restraining order against him late last year— will accompany the scared single mom, an insider tells RadarOnline.com.
"Brooke dropped the protection order because she was terrified of him and didn't have anyone to go help back up her story," the insider explains. "She doesn't want that to happen again, so she's going to go with Jessica."
According to insiders, Nicole hopes that by teaming up with Beaton, they can finally find justice.
"Jessica wants to make sure she and her son are safe," the source says. "She also wants to stop him from hurting another girl."