Exclusive
No Such Luck! Sofia Vergara's Ex Can't Use Her Embryos, According To Court Documents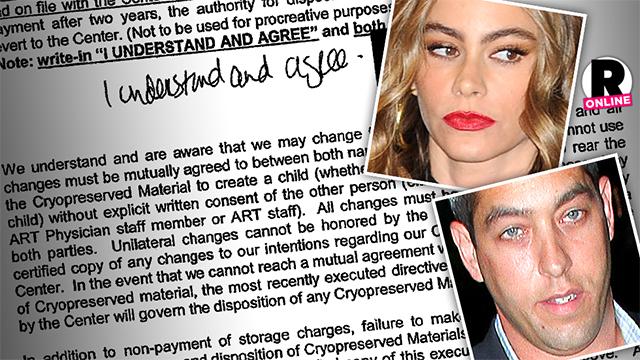 Sofia Vergara's ex-fiancé, Nick Loeb, can't use two embryos without the Modern Family star's permission, court documents state. But that hasn't kept the former couple from continuing to duke it out in court.
Loeb filed a lawsuit against Vergara and the couple's former fertility clinic, claiming he did not want the embryos destroyed because they are no longer dating.
The claim, filed under the pseudonym "John Doe," details Loeb's desire for Vergara to keep the former couple's embryos intact.
Article continues below advertisement
However, even if Loeb is successful in court, and able to have the embryos saved from being destroyed, he can't do anything with them, without , the documents state.
According to the extensive medical consent forms the duo were required to sign as part of the IVF treatment, a child can't be conceived without both parties' consent.
"We understand and are aware that this Directive. However, any and all changes must be mutually agreed to between both named partners. One person cannot use the Cryopreserved Material to create a child (whether or not he or she intends to rear the child) without explicit written consent of the other person (either by notary or witnessed by ART Physician staff member or ART staff),"​ the medical consent form states.
Sources told RadarOnline.com both Loeb and Vergara signed the document.
Vergara and Loeb began dating four years ago. They split in 2012, reconciled and became engaged, only to for good in 2014.
While the medical consent forms don't address what happens to the embryos if a couple breaks up, Loeb and Vergara agreed that the two female embryos would be "thawed with no further action" in the event of the death of either party involved.
Now, Vergara is vowing to fight Loeb's attempts to "drag her name through the mud. She has worked way to hard to get where she is," the insider added.