Slap In The Face! Scott Disick Parties In Las Vegas Instead Of Supporting Bruce Jenner On His Big Night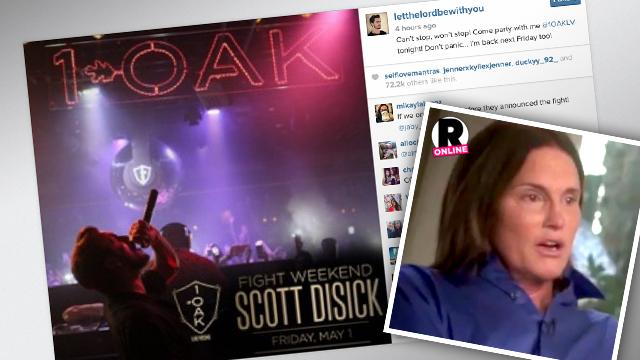 The Jenners and Kardashians will gather together tonight to support Bruce Jenner as his big interview with Diane Sawyer hits the air. But RadarOnline.com has learned that at least one of them will be missing: Scott Disick, the three-time baby daddy to Kourtney Kardashian's brood, has chosen to host a booze-filled party at 1OAK in Las Vegas instead of being there on what could be the most important night of Bruce's life!
Article continues below advertisement
Disick, 31, confirmed his decision on his Instagram, where he posted a flyer for the upcoming event along with a caption that read, "Can't stop, won't stop! Come party with me @1OAKLVtonight! Don't panic… I'm back next Friday too!"
https://instagram.com/p/13s8UPu32T/?taken-by=letthelordbewithyou
A source close to the Kardashians tells RadarOnline.com, "It doesn't make sense. Bruce has always been really good to Kourtney, to him and to the kids," adding that "the family is really quite surprised about Scott going to Vegas instead of being there to support his family."
As RadarOnline.com previously reported, following his short-lived rehab stint at Costa Rica's controversial Rythmia Life Advancement Center, Disick -- the father to Mason, 5, Penelope, 2 and 4 month old, Reign -- said he was going to return to the lush rehab, calling it "an amazing place."
More than a month has passed since The Lord checked out of the facility and since then, he has been spotted partying in Las Vegas on several occasions.
Do you think that Scott Disick should have stayed with his family and supported Bruce Jenner instead of going to party in Las Vegas? Let us know your thoughts in the comments below.